Grand Prize Winner to Donate Winnings to Pediatric Aids Foundation
By Paul Moffett
Rozlyn and Vincent Reynolds, Grand Prize winners fo the LASC Songwriting Competition '92, will donate the $1100 won by "In the Absence of Angels" to Elizabeth Glaser's Pediatric Aids Foundation in Los Angeles.
The Reynolds, who recently moved to Louisville from Los Angeles, wrote the song after becoming involved with the Foundation.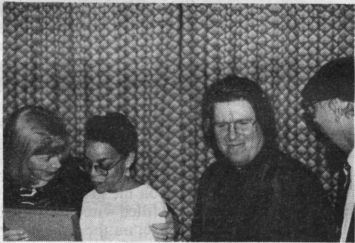 LASC VIce President Jean Metcalfe, left, explains to Rozlyn Reynolds that the framed certificate for theirr Grand Prize winning song is just a substitute for the crystal fleur de lis award, while her husband and writing partner Vincent hold securely on to the $1000 check his handed him by President Paul Moffett. Phoot by Tom Metcalfe
In addition to winning the Grand Prize, as well as the Other category with "Angels," they won first place in the MOR/Pop category with "I Like the Night," for a prize total of $1200.
The Reynolds received their award and checks at the Songwriting Competition Banquet at the Quality Hotel on November 7. In addition to the monetary prize and certificates, they will receive a crystal fleur de lis for "In ther Absence of Angels."
The top three songs in the overall judging were:
Grand Prize
Rozlyn and Vincent Reynolds
In The Absence Of Angels
(Other Category)
Second Place
Hank Linderman
Just Say Goodbye
(Rock Category)
Third Place
Debbie Channing
Let Love Carry Us Through
(Gospel)
A complete list of the winners, by rank and category, is to the right.
Hank Linderman, winner of the Rock category and Second Place overall, is a Louisville native now living in Los Angeles. In addition to his songwriting, Linderman is a columnist for the Los Angeles Songwriters Showcase.
Debbie Channing, winner of the Gospel category and Third Place overall, lives and writes in New York City.