The Bambi Walk, MERF Version
By Paul Moffett
I was at the Phoenix Hill Tavern, attending the MERF press reception, when I decided that it would be a good idea to try to hit all the bars that were involved in the MERF benefit, just to see if it could be done. After all, that was the pitch to get your seven dollars.
I decided to call it the MERF Bambi walk.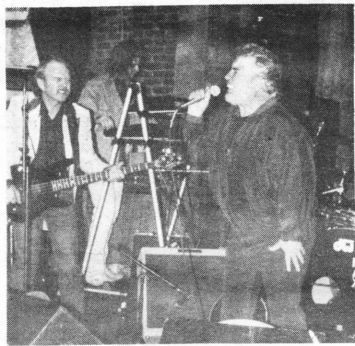 Cosmo struts with the Shufflin' Grand Dads in the Saloon at the Phoenix Hill. L to r, Ron Payne, Pete Peterson and Cosmo. Photo by Paul Moffett
The Bambi walk, for those not intimate with Louisvillisms, is a rite of passage for young adults. Beginning at the Bambi Bar on Bardstown Road just south of Taylorsville Road, the just-turned-twenty-one-year-old walks toward town, stopping at every bar along the way for a beer. The point, besides getting totally wasted, is to see how far along you can get.
A designated driver is de rigueur.
Whether my MERF Bambi walk was a wise idea or not remained to be seen. I had spent most of the weekend working a big event myself and I was close to exhaustion. The day job was looming on Monday.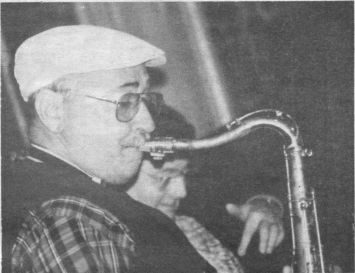 Gary Falk toots his own horn at the Rudyard Kipling. Photo by Jean Metcalfe
Could I really do it? I thought I could.
The music had begun. It was 7 p.m. I rambled around all three stages at the Phoenix, catching a little of the Shufflin Grand Dads rocking through a series of Gary Meeks tunes, then the Slam, a shirtless rock group with a posture, and Linda Cushing Gower in the Taproom.
From the Phoenix, I drove to the Rudyard Kipling, a favorite haunt not usually open on Sundays. The jazz contingent was holding forth there, with Walker and Kays on stage when I arrived. The crowd was small, enthusiastic and composed entirely of jazz aficionados. I ordered up a Little Kings draft (the only place in town that has it on tap) and sat down.
At the Rud, of course, it's impossible to just sit and listen. There are too many interesting folks to talk to. I had another Little Kings and chatted with friends.
My next stop was Uncle Pleasant's, another favorite haunt not usually open on Sundays. Joe's Report was just beginning to fire up and the alternative crowd was slowly coming in the door. Even on Sunday nights, Uncle P's crowd is a late bunch. I drank an Old Mil with owner Mark Smalley.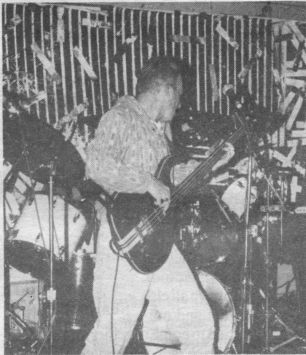 John Hulcher of Joe's Report pounds out a bass line at Uncle Pleasant's. Photo by Paul Moffett
Next was the Cherokee Blues Club and my timing was excellent -- Steve Ferguson and his Midwest Creole Ensemble were cooking up a helping of Jack Salmon and Derby Sauce. Hi-di-ho. I ordered up a beer and found a pole to lean against, unobtrusively. I hung around until Ferguson ended his set.
Then it was across the park to Jim Porter's, where Ron Payne and Yellowstone were giving the Sunday-night country dance crowd something to dance to. Azzure was playing in the Good Time Room and a group I was not familiar with was holding down the fort in the Melody Bar. Jim Porter's layout encourages circulation and I am not immune to that effect. I made the round and headed out the door.
Another cross-the-park run got me to the Toy Tiger. I confess that the Tiger has never been a favorite watering hole of mine, primarily due to my (relatively) advanced age. Nonetheless, I promptly ran into friends and grabbed a seat to listen to Turley Richards, backed by the Louisville All-Stars, including MERF President Wayne Young. Wayne had shed his sleeveless tee and donned a vest for the Tiger show. Al Scherer of the Miller Beer distributors was enjoying himself immensely and buying rounds for the MERF crew.
By this time, it was getting late. The Sahara, Yogi's and the Holiday Inn Hurstbourne loomed ahead. I took my leave and slipped down Bardstown Road to the Sahara Club, where country music by Hugh Bir Jr. was the order of the evening. I promptly fell into a lengthy conversation with Ron Cook of Karen Kraft and Kiks. The evening got later and later. My self-imposed task was beginning to look daunting as I waved off the waitress.
By the time I got out of the Sahara and down to Yogi's, the college rock crowd had packed it in, as had the band. I checked the bar off my list and headed east on I-64.
The Holiday Inn Hurstbourne was hosting Fifties bands, in style and age. The Sultans were laying down some solid vocals, with a four-man front line walking the dog. The enormous ballroom at the Holiday Inn dwarfed what would have otherwise been a respectable post-midnight crowd. Even so, several couples were up and spinning around the dance floor.
I drank one more beer and chatted with Paul Cunningham of the Wulfe Brothers Band. The night was morning but I had made it through the entire "walk." The whole thing took a total of seven and a half hours, counting the press reception. Staying within the legal limits for driving, I had listened to bands in every club but Yogi's.
Rock 'n' roll, alternative, folk, country, funk, blues, rock and Fifties doo-wop. Not a bad mix, although I did miss bluegrass, which has a presence only on public radio and the occasional concert or festival.
And all those bands played for free, raising money to help their colleagues in the event of misfortune.
Cheap at twice the price.