Jeffersonville Couple Carries On Royal Tradition
By Kevin Gibson
What started as a harmless trip to Memphis to look for Elvis Presley souvenirs has become a lucrative family business and international recognition in the music industry.
A Jeffersonville, Ind., couple has turned an interest in music into an in-home business supplying Elvis impersonators and country and western musicians with costumes.
In fact, any kind of costume _- Elvis or otherwise _- one might want, B & K Enterprises can provide. Using the designs of Gene Doucette and Bill Belew, who designed many of the original costumes used by Presley, this couple has turned out some 250 costumes since the early 1980s, and has a growing number of orders to fill each year.
The endeavor began some 12 years ago, in the wake of Presley's death, when Robert Butch Polston was scouring the market for memorabilia of the King of Rock 'n' Roll.
I've been an Elvis fan all my life, Polston said. When I got older and Elvis died, I was out there trying to collect Elvis memorabilia .ÿ.ÿ. I wanted something no other fan had.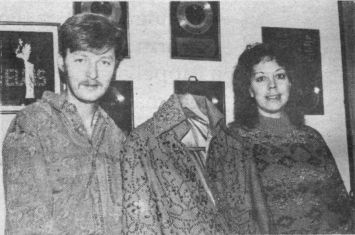 Butch and Kim Polstoln display a costume fit for the King. Photo by Kevin Gibson
The thing Polston went in search of was an original Elvis costume, but what he found was an inflated market.
I found them, but the dealers wanted $50,000 to $100,000 for a costume. I couldn't afford to buy anything like that.
So, Polston and his wife, Kim, located a Louisville woman named Edna Graham who did professional sewing. Graham sewed half a dozen costumes for the Polstons, who then studded them and drove them south to an annual Memphis get-together commemorating Elvis' death.
They had no idea of what kind of reception these costumes would get.
I had no intention of ever selling those costumes, Butch Polston said. I didn't think they'd even buy anything like that. A lot of Elvis' personal friends came around and liked what we were doing. Impersonators liked them and made us offers on these costumes.
One impersonator bought three for $500 each.
Back then, that was like all the money in the world to me and Kim.
That got the ball rolling, and it wasn't long until the Polstons' telephone began to ring more frequently. They made a trip to California, where they met and befriended Doucette and several others who worked on Presley's original wardrobe. They collected some patterns and important tips, and soon bought their own equipment.
The more costumes Butch and Kim made, the more the phone rang. They put in long hours at night, as they both work for S R Wood Inc. in Clarksville during the day.
It was very, very rough getting started, Butch said, but we started doing some advertising, and before long we were known worldwide.
That's no exaggeration, either. B & K Enterprises costumes can be found in Australia, Canada, France, England, Switzerland and, very soon, Japan. Ask Butch what influential people he's met over the past 10 years, and he has to scratch his head and think.
Here's a partial list: Sylvester Stallone (Butch and Kim gave Sly the stone used in the necklace he wore during Rambo: First Blood Part II), John Mellencamp (Butch does some promotional work for him), Tommy Boyce (creator of the Monkees), Jerry Lee Lewis, Carl Perkins and B.B. King, not to mention a host of Elvis impersonators such as Eddie Miles and Doug Church.
Butch said several B & K costumes have appeared on television shows and in movies, but it's never put in the credits at the end that we did it. That's kind of painful not to get the credit.
Still, the overall experience is a rewarding one, Kim says. It makes you feel pretty good to know they're all over the world. .ÿ.ÿ. You get to meet a lot of different people. We've even got a chance to go to Australia.
Kim explained that she and Butch did a costume for a man down under for the purpose of advertising. He liked it so much that, in exchange for another costume in the future, he has agreed to fly them to Australia.
Meanwhile, Butch and Kim continue to improve upon their work. They crank out costumes worth anywhere from $1,500 on up that look and feel like the real thing. And it's not just the Elvis theme _- they'll make anything.
We have the knowledge to do just about any kind of costume, Butch said. We can custom-make just about anything. (Price) depends on how much they want to spend. The sky can be the limit.
Butch estimates that there are 50 people across the country doing this type of costuming, and that no two do exactly the same thing. Many are simply remaking old patterns created by the late Nudie Cohen, a well-known designer of costumes for country and western musicians, while some are expanding on the old ideas and creating new ones. Butch said it is the ability to expand which will put B & K over the top.
We've got the flair for imagination, he said. That's where we'll eventually take it.
While he feels the real future in the market lies in doing costumes for country and western artists, he also believes there will always be a demand for replicas of costumes worn by the King.
Kim and I have re-created just about every costume Elvis ever owned, he said. There are still going to be a great deal (in the future). We're doing them for people who weren't even born when Elvis was getting popular.
It's strange that this man has had the impact on the world that he had, but they keep coming to us to make the costumes.