Second Thoughts
Kentucky Opera's TOSCA
If popularit y is a measure of approval, Giacomo (James) Puccini (1858-1924) is contemporary America's favorite writer of operas _- and Tosca continues high on the list. A recent survey listed the five operas most frequently performed in this country; three came from Puccini's pen and one was Tosca.
But where do operas come from? And why do people continue to see and hear Tosca?
Tosca derives from a highly successful 19th century play. The author, Victorien Sardou (1831-1908), a member of the French Academy, wrote some 60 plays of almost every kind. In fact, his Tosca had some 200 performances before Puccini's opera opened in Rome in the first year of this century.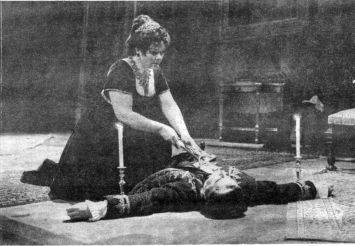 Edith Davis as Floria Tosca and Donn Everette as Baron Scarpia. Photo by Patrick L. Pfister
There are any number of reasons for Tosca's popularity. It was such a natural that without understanding French, Puccini saw it and it was love at first sight. Sardou had written it for the divine Sarah Bernhardt. The story line is easy to follow. The story has roots in history and contemporary politics. Cavaradossi and his lover, Tosca, were historical people circa 1800 in Rome; they were caught up in the conflict between Royalists and Republicans in Italy during the aftermath of the French Revolution. That political conflict was very much alive when Sardou wrote and echoes of it were still visible and audible when Puccini staged Tosca. the story is realistic to the point it shocked audiences while they delighted in it. There is something stunning and contemporary about a play in which a woman kills the man who tries to rape her.
The story begins in Rome when the Royalists have just returned to power. They are seeking the Republican leader who is Cavaradossi's friend and the instrument of their revenge is the fearful and evil police chief, Baron Scarpia, as in Scorpion. Scarpia desires to entrap both men; his motives are political and personal; he lusts for Tosca and envies Cavaradossi for being her lover. We get some idea of how torrid his passion is when, at the end of Act I, he exclaims, Tosca, you make me forget God!
He also plays on Tosca's feelings when after arresting Cavaradossi, he sends for Tosca. He lets her see and hear how his men are torturing Mario so he will tell where the Republican leader is. He refuses but his agony leads Tosca to tell. Shortly afterwards, while dining in style, he again sends for Tosca who has just finished singing for the Queen. He calmly tells her he intends to kill her lover but will relent if Tosca will give herself to him. Outraged and stunned, Tosca tells God and us, I have only lived for art and love; why do you let this happen to me? When Scarpia seems to agree to give her and Mario safe conduct, she appears to relent, only to see a knife on the dinner table. Blind with passion, Scarpia starts to embrace her only to feel the knife entering his heart.
As we move into Act III, Mario thinks he is to be executed the next morning when Tosca tells him what she has done. Of course, there has to be a mock execution first. But when it occurs, Tosca suddenly realizes Scarpia has betrayed her; the execution is real! Then we hear sounds of Scarpia's minions coming to arrest Tosca. She climbs to a nearby roof and suicides, saying as she leaps, Scarpia, I indict you before God!
In this production, Donn Everett makes his first appearance as Scarpia. When we asked him what it takes to portray the villain. Donn replied, It is my hardest role to date. One of its difficulties comes in Act I when I have to act as if I am a good guy and what I say in my aria is the evil I plot against Cavaradossi and Tosca. The baritone voice has three ranges: high, medium and low. I usually sing in the first two but this role requires me to sing at the lowest range. Everett has been heard in many roles on the local stage.
Our Tosca is Edith Davis. The native Louisvillian first sung this role when she was 22. More recently, she drew raves in New York and Europe for her performances and Tosca has become what the trade calls her signature role.
Finally, in many ways, this production is preeminently a local triumph. A generous grant from Humana made it possible. The Ballard High Chorus which won international claim, a children's choir from Highland Presbyterian and the MasterWorks Chorale all lend their talents to the occasion. The Archdiocese of Louisville and Bellarmine College have lent the proper ecclesiastical props for Act I while Bellarmine faculty member Rev. Eugene Zoeller finds himself promoted to Cardinal for the procession in that act. In short, Tosca is a triumph for people working together, a talent for which General Manager Thomson Smillie should take curtain calls. Bravo for everyone!