The Cactus Brothers
By Dallas Embry
The super popular Nashville-based rock band Walk the West has always performed music with touches of many other genres than rock incorporated into their sound.
The Cactus Brothers is the alter-ego of WTW, plus dulcimer player par excellence David Schnaufer and ace dobro man Sam Poland.
Being an old fan of Schnaufer as a soloist for some years, having a passionate lust for dobro, and having enjoyed Walk the West every time I've seen them, I was ready for some special evening, and I was not disappointed.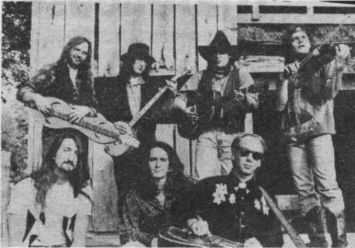 The Cactus Brothers
The Brothers eased into their set with solo acoustic guitar accompanying Hope and Misery with the lyrics .ÿ.ÿ. ticket to nowhere and I'm leavin' tonight and let the darkness swallow the light.
With the addition of dulcimer, mandolin, electric violin, pedal steel, electric guitar, bass and drums, they were off and rolling. After a semi-rollicking Cajun tune they slid into the instrumental Spaced Out 'n' Blue during which Tramp played some really beautiful electric violin.
Following this was a new country song which featured some nice sounds on banjo and pedal steel, then everyone joined in for Crazy Heart and the vocal harmony was wonderful. Next was Let's Be Old Fashioned with more wonderful harmony and an inspired segue from Poland's pedal steel to Tramp's electric violin so smooth that I wasn't sure which instrument was which for a second or three.
Tramp then began Turkey in the Straw, which evolved into a Native American-sounding piece, then to a rap song, another Cajun jumper, then back to the old standard. Tennessee Ernie Ford was recognized as they rocked Sixteen Tons then boogied on through Hot Chicken Pie with some honkin' harmonica.
David and Tramp were featured in a really pretty duet on electric violin and lap dulcimer, then WTW took a tad more control with the '60s tune Don't Bogart That Joint, which they really revved up, then they gave Led Zeppelin the same treatment they had given Turkey .ÿ.ÿ. earlier, only they threw in a little bluegrass for pot liquor.
From a dirge-like piece with Celtic roots they slipped into the familiar with Lara's Theme and Spanish Harlem before winding down.
The Cactus Brothers, who are Paul Kirby, guitar; John Goleman, bass; Will Goleman, banjo; Tramp, violin; Dave Kennedy, drums; Sam Poland, dobro and pedal steel; and David Schnaufer, mountain dulcimer, provided me with a fine evening's entertainment, and I'm already looking forward to the next time.