Big Wheel
By Paul Moffett
At age twenty-three, Peter Searcy's six years' experience in dealing with record companies makes him near to a grizzled veteran of the label wars.
Searcy was a member of Louisville's Squirrel Bait, an internationally known teenaged punk band that recorded two successful albums for Homestead Records. The band had considerable acclaim, both critically and with fans, but it broke up in late '86.
Now Searcy is ready to try again. This time, the band is Big Wheel, the record company is North Carolina-based Mammoth Records and the record is Holiday Manor. An album release party is scheduled for Saturday, February 1, at Tewligans. Playing on the bill with Big Wheel will be Hoola Hoop, the Blueberries and Minnow Forest, formerly Mrs. Frazier. Show time is 10 p.m. with a $4 cover.
It's not as simple as all that might appear, however. In between the demise of Squirrel Bait and the upcoming release party were enough difficulties with record companies to make Searcy say: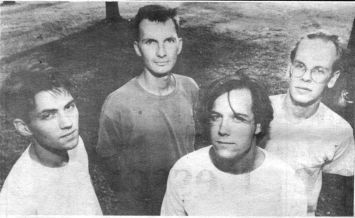 L to R, Glenn Taylor, Mike Braden, Peter Search, Tom Tomkins
"I feel ancient and I feel tired of this stuff and I'm twenty-three years old.
"Squirrel Bait was a new kind of music at the time, it was a real novelty but I'm really tired of it. People still expect me to be seventeen years old and screaming my head off, and it's not there anymore."
He hastens to add that he expects to get reenergized with a new record to promote and a band to tour with.
Big Wheel was formed after Searcy's post-Squirrel Bait band, Fancy Pants, broke up. Searcy sat in on vocals a few times with the cover band Ivy Beats. Struck enough by their enthusiasm to continue singing with them occasionally, Searcy got together with them after the Fancy Pants split and said: "Well, I've done this thing where you get a record contract and it's not that difficult from what I can see and if you guys are interested.. ."
So the Ivy Beats became Big Wheel. Personnel were: Searcy on vocals, Mike Braden, bass, Glenn Taylor, guitar and Scott Langford on drums, who has since moved on to work with Nervous Melvin and the Mistakes. He was replaced by Tom Tompkins.
After about six months of writing, the band had a record contract with Giant, sister label to Homestead. They recorded an album, which was released in 1989.
Then things began to go less well. The record company did not promote the album as well as the band thought they should. At one point the band found themselves packaging two hundred copies of the album in order to have some for sale.
Then the company sold the Giant name to Irving Azoff, who established the current Giant label. Big Wheel's label became Rockville. After a "bunch of legal stuff," the band got out of their contract with Giant/Rockville, keeping the masters of their next album.
The band members had met the staff of Mammoth Records at a CMJ convention and felt comfortable with them, so it was only natural that when Big Wheel finally got free of Rockville, they went straight to talk to Mammoth. The company signed them the middle of 1991 and plans were made to release and promote the album the band had recorded with Rockville. Cut in ten days at Ardent Studios in Memphis, with Ross Humphrey as producer, Holiday Manor is an eleven-song project that Mammoth is eager to promote.
Searcy is equally eager for Mammoth to promote the release, noting that the label has done everything they said they would. Distributed by Important Records, a CBS subsidiary, Mammoth can move a million albums, if a million are sold.
"I'm putting my faith in Mammoth Records," says Searcy, "I just want a fair shake from the label."
Asked about the music on Holiday Manor, Searcy explained:
"I grew up listening to the Beatles and the Byrds and punk-rock and I put the two together and now they're beginning to come out at the same time."
"I listened to a lot of punk rock growing up. It was something I could grasp, it was mine. It wasn't my father's, it wasn't my mother's."
"Glenn [Taylor, the guitarist] grew up listening to seventies rock and roll, the big anthem bands like Queen and some of that comes out in the complexity of the music."
A second album on Mammoth is planned for late-summer release, with recording tentatively set for June. The group is talking to producers now, and writing for the project is underway.
The group has done a couple of acoustic shows recently at Butchertown Pub and Tewligans. The album-release show will be electric and amplified, with "pretty much a rock and roll lineup," according to Searcy.
A review of Holiday Manor appears elsewhere in this issue.