The Music of Andrew Lloyd Webber
By Patricia E. Finger
If you missed the Broadway Series production of "The Music of Andrew Lloyd Webber" recently, you missed one of the best shows of the year. Big in the way only Broadway can be, this concert presented spectacularly the best of Webber's music and featured the signature Phantom performer, Michael Crawford, from the great musical hit, "Phantom of the Opera."
Coming from the best Broadway and television backgrounds imaginable, the singers performed with the finesse and style only the seasoned professionals could have. It is difficult to imagine performing the same repertoire over and over again and somehow achieving the freshness and excitement in the music each time, but these folks did and will be doing it in every major city this year with Michael Crawford's tour.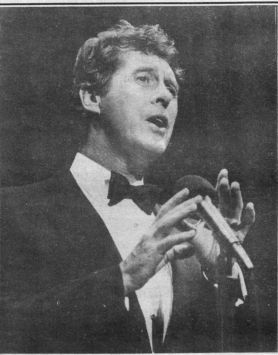 Michael Crawford. Photo by Ray Fisher
Who can resist loving the haunting melody of "Memory" from "Cats," no matter how many times you've heard it? "Mr. Mistoffelees" couldn't have been more dynamically performed than the incredible dance by Ty Taylor who actually turned flips and landed on his feet each time.
The music from "Jesus Christ Superstar" brought back plenty of memories for the baby boomers in the audience of Helen Reddy singing "I Don't Know How to Love Him," but she wasn't here to sing it, of course. The less-familiar music of "Starlight Express," written by Webber for his children, delighted the crowd with the Nashville-sounding "U.N.C.O.U.P.L.E.D.," a pun on another famous country song you might know.
No Andrew Lloyd Webber performance would be complete without the beautiful song from "Evita," "Don't Cry for Me, Argentina," and the performance by Julie Waldman Stiel was convincing. Probably the most exquisite music of the program was "Pie Jesu" from Webber's "Requiem," a duet by Tami Tappan and Gay Willis. This piece shows the versatility of the talent and genius of Webber.
By far the highlight of the program, the music from "Phantom of the Opera," totally enraptured the audience. The pulsating music of "The Phanton," wickedly and seductively performed by Michael Crawford, had everyone in its power. "Think of Me" seemed a little shaky, but "All I Ask of You," a duet by Crawford and Cathy Porter, more than compensated for any disappointment there.
Michael Crawford is perhaps best known for his performance of The Music of the Night" and thus was especially beautiful and fulfilled all my expectations.
A very funny, warm and gracious performer, Crawford performed two encores from his new album, Michael Crawford Performs Andrew Lloyd Webber, before leaving the stage. The orchestra, which included keyboards, electric guitar and bass, played well and projected the excitement of the music. This January 4 concert was truly almost constant delight for