The REAL Reason February Has An Extra Day
By Bob Bahr
For Louisvillians who have been limping through the winter holiday drought, the strife is over. February is so chock-full of music, they added an extra day at the end make time for a few more events.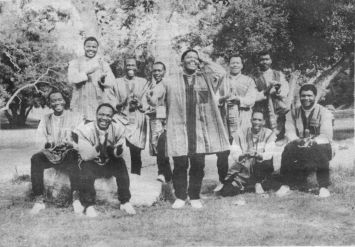 Ladysmith Black Mambazo will be at the Macauley Theatre on February 29
February 29 visits only once every four years. Judging by the music it brings us in may want to petition for its appearance every year. On the elusive 29th, we have the traditional Celtic harpist Patrick Ball at the First Unitarian Church, Fourth and York, while across Broadway, Ladysmith Black Mambazo plays the Macauley Theatre. Ladysmith Black Mambazo is a critically acclaimed acappella group from South Africa. Tickets are $16.50, call 5 84 7 7 77. Elsewhere downtown, Salieri and Mozart go head to head with "The Impresario" followed by "Words and Music," an operatic doubleheader at the Kentucky Center for the Arts. The double bill runs February 26, 27, 28, 29 and March 2 and 3. Or hop over to Muhammad Ali Boulevard for Sawyer Brown, John Anderson and Sammy Kershaw at Louisville Gardens. It's a country show, y'all. Head towards UofL for the psychodots at Uncle Pleasant's, if your taste is more experimentally rocky. The buzz around these former Bears is still humming strong, so do yourself a favor on Saturday, 29 and check them out.
That's quite a selection for a date doesn't show up but every 1,460 days.
The of the month is equally entertaining and diverse. Uncle Pleasant's keeps the faith with more original and alternative music, starting with Snapdragons and Candy Says from Lexington. Sounds like an evening of alternative pop that tastes great and is less filling.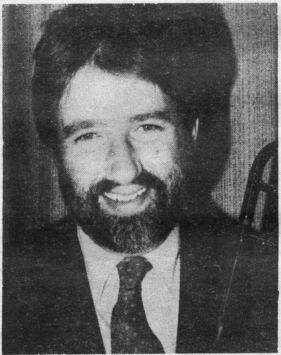 John Whigham will be at Luckett's at Actor's on February 18
The rival original club across town, Tewligans Tavern on Bardstown Road, has Big Wheel's album release party planned for the 1st of the month. Elsewhere on February 1, Freddy and Ike Cole present "We Remember Nat: A tribute to Nat King Cole"as part of the Midnite Ramble Series at the Kentucky Center for the Arts. And over at Louisville Gardens, Peter Nero (not a fiddler but a pianist) will perform with the Louisville Orchestra as part of the Yellowstone SuperPops series.
The Homefront Performance of the month features multi-instrumentalist Jane Gillman, a folk-steeped singer-songwriter adept at the guitar, stand-up dulcimer and blues harmonica. The February 8 show, held at the first Unitarian Church at Fourth and York, will be opened by Dishman & Ballard.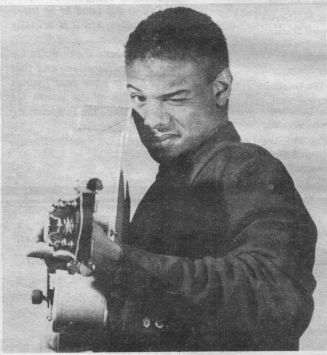 Mark Whitfield graces Jim Porter's Good Time Emporium on February 13
February gets jazzy as early as the 10th, with trombonist Jiggs Whigham visiting Luckett's Downstairs at Actors. Whigham has played with the best and now teaches in Cologne, Germany. Tickets are $6 for Louisville Jazz members, $8 for the rest of us chumps
Avram Kahn Jim Porter's Good Time Emporium team up for a hellacious February. February 4, blues guitarist Johnny Winter will treat paying customers to some authentic, electric blues, with guitarist John Campbell opening. Barely a week later, blues genre-buster Clarence "Gatemouth" Brown wi1l play at Jim Porter's on February 12. The Alligator Records recording artist blends country, swing, R&B, zydeco & cajun, calypso and bluegrass in with his Louisiana blues. If you sit tight, the next night Mark Whitfield will play jazz-oriented guitar for you. Another of the young jazz lions created by the record industry, Whitfield has hung out with George Benson and enlisted help for his album Patrice from Jack DeJohnette, Ron Carter and Kenny Barron. See what's behind the hype on February 13.
Elsewhere on the 13th, a benefit for Kids at Risk will be held at the KCA, with local blues artists da Mudcats, Murphy's Law and Lamont Gillispie and the Homewreckers pitching in. Venture down for what is billed as a "Special Night of Blues Magic."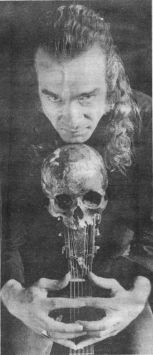 John Campbell is at Jim Porter's with Johnny Winter on February 4 Ladysmith Black Membazo wil be at the Macauley Theatre on February 29 Jiggs Whigham will be at Luckett's at Actor's on February 10.
On the 14th, Thomas Stacey, an oboe and English horn player, performs with the Louisville Orchestra as part of the LO's MasterWorks series. That's at the KCA.
Give your love Tiny Lights for Valentine's Day, a day late and a circuit short. Tiny Lights promises trippy psychedelia for their February 15 show at Tewligans Tavern. Some people swear by Tiny Lights and their four-album discography proves their longevity. Also on the 15th, Alan Rhody returns to the Rudyard Kipling for another solid dose of good, original folk music. Welcome back, Mr. Rhody.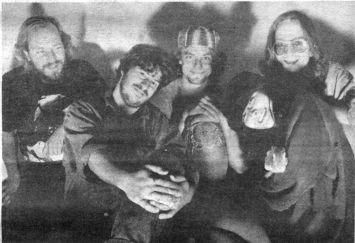 Tiny Lights shine at Tweligans February 15
There have been some dang good blues shows down at Stage Deli at 3rd and Broadway. If you haven't caught one yet, check out Rod Piazza & the Mighty Flyers on February 5. Da Mudcats will open for that heralded blues band.
So you loved Edith Davis in last month's KOA production of "Tosca," and you want more. You're in luck. The soprano singer will give a public performance at the UofL. School of Music on February 20 as part of the New Dimensions series.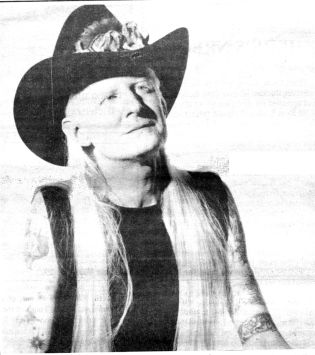 Johnny Winter appears at Jim Porter's February 4
"Tall and tan and young and lovely" when Astrud Gilberto sings, all the boys say, "Ahhh." Catch her and her band at the Kentucky Center for the Arts on February 7. Two days later, from the other side of the world, the Kodo Drummers will perform at the KCA as part of the Global Visions Series. The February 9 show of Japanese percussionists will cost you somewhere between $9.50 and $17.50, depending on seat location. Call 584-7777.
Down at the Quinn Chapel AME Church, 912 West Chestnut Street, A Joyful Noise will pay triibute to saxophone innovator John Coltrane as part of the Jazz Network Series. The is on February 16, the tickets are available by push-buttoning through the telephone maze at the KCA at 584-7777. Patience be with you.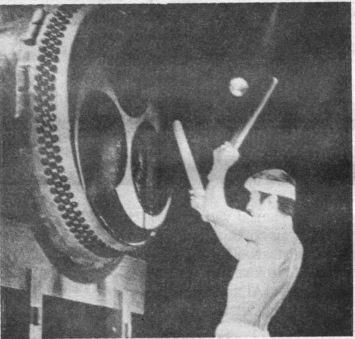 Kodo drummers are at the Kentucky Center for the Arts on February 9
While you are on the line, ask about the Academy of St. Martin-In-The-Fields concert at the Center for the Arts on February 19. One of the most recorded orchestras today, the Academy of St. Martins-In-The-Field s chamber orchestra will perform works by Mozart, Shostakovitch and Schubert.
Don't hang up yet. Also at the KCA is Little Jimmy & the Memphis Soul Survivors, a Lonesome Pine Special of the blues variety. Little Jimmy King is a young blues guitarist who won the respect and company of the late Stevie Ray Vaughan. His playing style incorporates the sound of Jimi Hendrix, Albert King and Vaughan. King plays on February 21.
On Febniary 27, Chris Chandler will play his caustic acoustic music at Uncle Pleasant's. The singer-songwriter lives in his car and inhabits his song subject's lives, often slipping into a different persona during a concert. Sound interesting? That's Uncle P's on the 27th.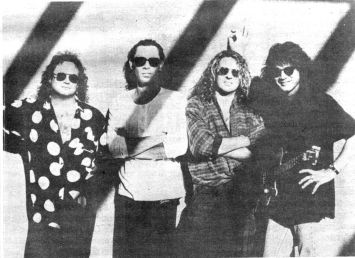 Van Halen shakes the rafters at Freedom Hall on February 9
Two loose ends for February: Van Halen at Freedom Hall and a bluegrass double bill at Rudyard Kipling. The Sammy Hagar-led Van Halen will dish out their dose of hard rock February 8. And at Rudyard's, Gary Brewer & the Kentucky Ramblers will share a bill with Larry Sparks and the Lonesome Ramblers on the same night, February 8 Eddie Van Halen's fast, but can he flatpick a five-string banjo? Choose your allegiance on the 8th.
Coming to our gentle town: "The World's Longest-Running Erotic Stage Musical Comedy!' Who has Oh! Calcutta!" been running from? Jesse Helms? The unclad company of "Oh! Calcutta!" makes a brief stop in Louisville on February 17 for one show only. The hallowed hall of Macauley Theatre will host this adult entertainment. Call 584-7777.
Would you rather be dead than see that revealing revival? You can, every Thursday at Uncle Pleasant's, with their Deadhead Thursdays. Throughout February, Uncle P's will feature bands playing Grateful Dead-inspired music and the odd Dead cover tune.
Another dead rocker, Elvis Presley, will be toasted at Derby Dinner Playhouse on February 21 when Eddie Miles presents "A Salute to Elvis." Call 812-288-8281.