December Showcase
By Wally Stewart
An unsually warm evening for December 7th greeted the somewhat small group who came to the Rudyard Kipling for this month's LASC Showcase. Paul McGee was the first of four acts and emcee Jean Metcalfe mentioned that he plays in Mr. B's All Purpose Band and the Rib Tip Kings. Splitting his self-accompaniment between guitar and piano, Paul brought songs that came primarily from his family life.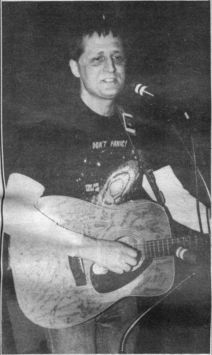 Michael Kessler. Photo by Michael Eggenspiller
Some interesting titles were heard, such as "Charlie Plays Guitar On the Chicken Plank," and McGee's tunes displayed a mild folk flavor while staying in his own unique style. This devoted family man showed thought-provoking words on "Reply To Jane" _ written with John Burgard of Murphy's Law _ and "One Planet, One People." "Reply" referred to the Golden Rule _ "There's no exception to the Golden Rule if you try to break it yourself" _ while "Planet" spoke of a relationship with ". . . maybe I can make it better but I'm running out of time."
After Paul joined the audience a former Showcase hostess came to entertain as Rhonda Pierce made her second appearance on the LASC stage. Rhonda also played guitar and presented results from a recent season of composing.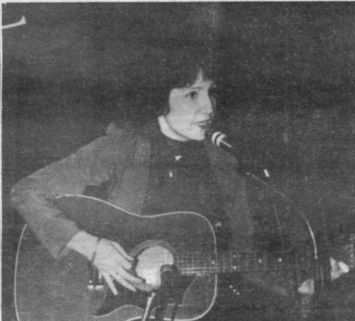 Rhonda Pierce. Photo by Michael Eggenspiller
Her country sounds started with the first public rendition of "Just A Minute." This came from talking with a friend who was having some difficulty. Rhonda wrote poignantly of an all-too-common truth _ "To a heart that's breaking, 60 seconds is a long, long time." This one reached its writer's goals, as hearing it helped the friend.
"Daddy" emitted powerful feelings with ". . . your little girl is still big in me." Country blues were also covered and a gospel touch was felt on the lovely a cappella "My Little Butterfly."
Difficulties with feedback occasionally interrupted this act, and as intermission, approached Pierce thanked the crowd for its patience. The house had grown slightly by the beginning of the second round as "upbeat folk" arrived from Michael Kessler. This popular artist has performed in Russia and is raising funds for a possible return this summer. Before taking the stage Kessler passed out soft-drink cans that had been filled with a material that gave out a maraca-like sound when shaken. Each time the singer shouted "shakers," he was joined by several temporary "sidemen."
Among his offerings were "folk reggae," a Christmas rendition of "Twinkle, Twinkle, Little Star," and tributes to megacomposers Woody Guthrie and John Lennon. Michael opined that Guthrie would be writing about the world if he were alive today, and "Woody's Tribute" started with the classic anthem "This Land. . ." then added ". . . from the Arctic ocean to Antarctica this world was made for you and me." Kessler ended with "For John," which incorporated lines from "Imagine" and "Give Peace a Chance," and sounded like something Lennon might have written.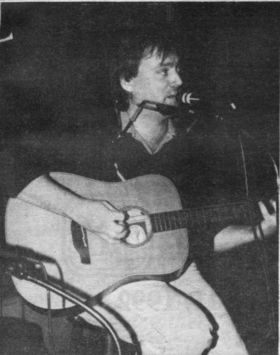 Scott Furlong. Photo by Michael Eggenspiller
Scott Furlong was on next and he showed the influences of Gordon Lightfoot and Harry Chapin in his music. Scott is a talented lyricist, singer and guitar player, all of which blends for enjoyable listening.
"Listen" was just two days old but was an appropriate opener. "Best Friend" was fresh from a rewrite since it was heard at the last LASC critique session. Halfway into the set, Linda Cushing Gower joined the act for a Fats Waller tune, then stayed for her "Run Jack Run." She handled the vocals and finger-picked rhythm while Scott concentrated on the lead licks. "Run" was fun and built on references to several well-known "Jacks," including the one who "hit the road" and the one who " . . . ran off with my best friend Jill." Jack is encouraged to "Go climb a beanstalk." This duet combined for some fine music and, when Linda went back to her table, she received a solid round of applause.
Furlong concluded the set with his gorgeous "Buy My Heart A Ticket Home," which painfully called to a lover who had left and either taken the singer's heart or had been followed by it: "Would you buy my heart a ticket home? I haven't seen it since you left."
Following the last intermission, each performer played a couple more songs, finishing out the show.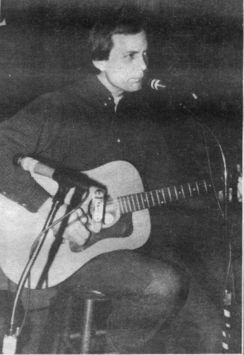 Paul McGee. Photo by Michael Eggenspiller
The January Songwriter Showcase has been cancelled due to scheduling difficulties. The February Showcase will be on February first.