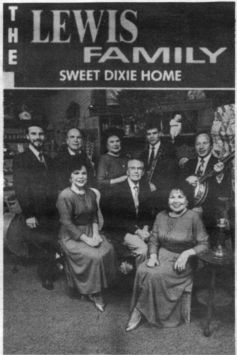 Sweet Dixie Home (Benson)
The Lewis Family
By Berk Bryant
I'll say right off the top, up front, and any other way to express it, those of you who listen to my program, Sunday Bluegrass, WFPL, know that I am a big and devoted Lewis Family fan. That fact will not get in the way, however, as I give my impressions of this new release by them.
The new cassette/CD title is Sweet Dixie Home. The selections come from an impressive bunch of writers, just a few of which are John Hartford and Randall Hylton, in one instance with Little Roy and Albert E. Brumley. John wrote the title tune, which is the first cut, an up-beat number really suited for Little Roy. As usual, the leads are distributed well and properly among the group, including 86-year-old "Pop" Lewis, still going strong. "Flowers In The Wildwood," a very good older tune by Albert E. Brumley. "I Believe It," "What a Savior What a Friend," two Randall Hylton songs, and "Gold Records in Heaven" by Randall and Little Roy. This brings the Randall Hylton gospel numbers recorded by the Lewises to somewhere in the neighborhood of 55 or so. When you listen to them it is easy to hear why.
The tape is completed with "I'm Gonna Shout," "Talk About Jesus," "On A High High Mountain," "Filled With The Spirit of God," and Pop's lead, "I Have But One Goal."
This is an all-over good tape. As with many of their recordings, in addition to the regular stage group, they have Buddy Spicher (fiddle), Hargus "Pig" Robbins (piano) and Jerry Ray Johnston (drums).
I mentioned this new tape to Randall when he was here and we both pretty much reached the same conclusion, independently, and that is: this may very well be one of their best, if not the best, over-all release to date. If you like bluegrass-flavored gospel with spirit, performed by the most entertaining group on the road today, then you must have this effort by The Lewis Family. My Sweet Dixie Home is IT!