Christmas Party Ends LASC 1991 Season
By Paul Moffett
The final LASC meeting of 1991 was a party at the Rudyard Kipling. Regulars enjoyed Jean's fudge and cookies and Diana's party mix and listened to Susan Tomes and Carrie Stone sing originals and Christmas carols. Joyce Trammell took a seat at the piano and the group joined round to help with the caroling. Nice harmony, Ronnie Dee and Wally Stewart.
Susan is a regular at the Renfro Valley shows and a longtime member of the LASC. She hasn't been around for some eighteen months as she moved to be near her job.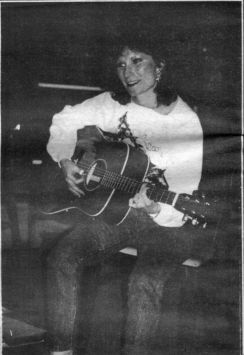 Susan Tomes. Photo by Jean Metcalfe
Carrie is a songwriter who has not connected with the Co-op to date. Susan brought her up in order to introduce her to the LASC.
Jean and Diana had plotted to buy the Prez a very nice sweater and they presented it to him prior to the sing-a-long.
The Prez took a few minutes to note that the LASC will be focusing more on the commercial side of the music business in the future, particularly with respect to the Seminar in the Fall. Comments from members were solicited.
Following the party,a gang of members retired to a nearby Frisch's to talk shop and make plans for the Holidays, not to mention plans for 1992.