Steve Crews Named "MUSICIAN Of The Year"
By Jean Metcalfe
At its annual awards night on November 9, Louisville Federation of Musicians Local No. 11-637 named Steve Crews Musician of the Year for 1991.
Union President John Roy, to ensure Crews' presence at the awards ceremony, asked the talented musician to provide holiday musicfor the awards night. Crews played the role well and his piano playing wasn't too shabby, either.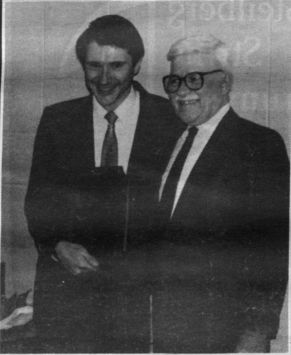 Steve Crews, at left, displays his 'Musician of the Year' plaque, presented by John Roy, at right, President of Louisville Federation of Musicians, Local 11-637. Photo By Jean Metcalfe
But as Roy's expression of appreciation segued into a "Short Biography of Steven F. Crews," the piano player realized that he was being heralded as more than just the entertainer of the evening.
Crews stood modestly during the remainder of Roy's remarks, but his delight at being honored by his peers became very apparent when the award was actually presented.
The Musician of the Year award is presented to a member of Local 11-637 who has contributed significantly to the music profession over a period of time, not just for accomplishments within a single year. The selection is made by the Board of Directors and the particular field of endeavor in which one participates has no bearing on the selection. Any one of the 800 union members could be a possible candidate for the award.
The festive mood of the evening continued as the ceremony ended and Crews' fellow musicians congratulated him with handshakes and hugs. And they helped themselves to a variety of food that was displayed on a well-laden table.
Other awards and recognition of accomplishments were noted during the evening. Fifty year membership anniversaries were noted for Don Brown, Bert Giancola, Everett Hoffman, Sr., Barnard Schwiermann and Edward Spies and those who were present accepted their fifty-year pins.
Twenty-five-year anniversaries were also noted, with corresponding membership pins, for Eddie Abraham, John Campbell, Marolyn Etheridge, Denny Inzer, Raymond Johnson, Barbara Meek, Bob Rosenthal and Quentin Sharpenstein.
Two past recipients of the Musician of the Year Award were on hand to welcome the newest addition to their number: Randy "T-Bar-V" Atcher and Bob "Bunny Foo Foo" Rosenthal.