Moe Bear and the Grizzly River Band
By Paul Moffett
Moe Bear was somewhat perturbed when he called to comment about a recent item in the LMN, concerning the Bama Band's most recent show in town at Swiss Park. All of the Bama Band's equipment had been stolen in Dallas and the column reported that the band "had to play the show with borrowed equipment."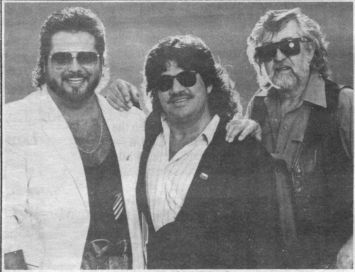 L to R, Moe Bear, Sam Morris, Billy St. Thomas
Moe thought the effort that he had made to see to it that the Bama Band got borrowed equipment counted for something. Especially since he had to get stuff sent overnight from Oregon to his house.
Especially since it was the fifth anniversary show for Moe Bear and the Grizzly River Band. He had put the whole thing together to celebrate and had sold 350 tickets in advance. Everything was on the line, but he got it together and the show went on only half an hour late.
The whole thing really began when Moe got in a wreck. While he was recuperating and still in a cast, his wife decided to take him for a trip to Nashville. While they were in the Country Music Hall of Fame, he inadvertently asked Diane Sherrill, Billy Sherrill's niece, for a hand with something and the next thing you know he's being showcased for six straight weeks on Printer's Alley. After that, Diane sent him home with instructions to work the bars and road awhile for experience, then come back.
Moe Bear and the Grizzly River Band play straight-up, down-the-road country boogie, with a few Sixties rockers tossed in. Most of the tunes follow the current Contemporary Country radio formula: eighty-twenty oldies to new stuff. Twenty-nine-year-old Moe doesn't sing every tune on country radio, only those that "feel right" and fit his vocal range and style.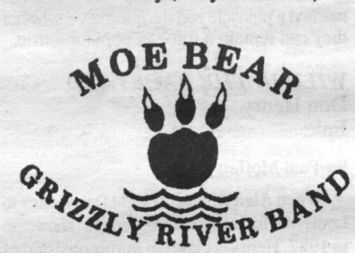 The big man dominates the stage when he's on it. He says he likes to have the audience on his side, so that the energy flows. Late at night, Moe can work a crowd into a frenzy and his potato salad routine has to be seen to be appreciated.
The rest of the Grizzly River Band is: Randy Shipley, who was formerly with Cowboy George and the Beer-Drinking Rodeo Band, and who handles the keyboards and pedal steel; Rick Davis, guitar; Billy St. Thomas, formerly with the Cumberlands, on bass; and Sam Morris, on drums.
Anyway, Moe took the first $500 he got from the wreck settlement and went straight to Jerry Conte at Sound and Music, out in the South End. Jerry helped him with starting and equipping the band, so that the Grizzly River Band could get to playing. Ever since then, he and Conte have been friends, which helped out when the Bama Band got their equipment stolen.
Early on, the band played some pretty rough places and gained a rough reputation. Moe says the reputation is undeserved.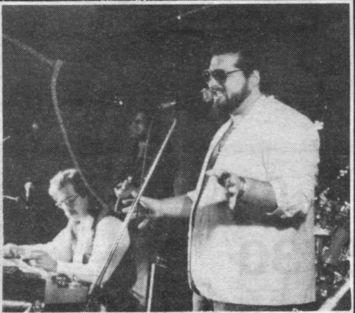 L to R, Randy Shipley, Rick Davis, Moe Bear. Photo by Paul Moffett
"We're nice guys and we just want to play." He declined to name the roughest place he had ever played. On the record. He did say he had never played a room where the stage was protected by chicken wire.
Moe says its been pretty steady work since then, out two or three weeks, working five nights, then home to play a couple of weeks of three-nighters. Though he did quit for a year before the bug bit him again. What he says he need is management, honest, knowledgeable management. And some good songs.
Moe is trying to get back into the studio, in between road trips and gigs around town. He hasn't done enough studio work, he says, and could use more practice. He spends the rest of the time he's in town with Tammy, his wife of eleven years, and his three children, John, Eric and Leilah.
I caught the band at the Red Bird Inn on Preston Highway south of the Outer Loop, a clean, well-laid-out bar that books either country bands or nostalgia acts. The DJ plays the music incredibly loud for early in the evening. Around the room, bar regulars ordered up, played darts, flirted. As promised, Moe and the band delivered energetic, tight covers of country standards. Moe's stage presence and big voice are obvious assets and he might very well be, given luck and the right connections and luck and talent and perseverance and luck, the next ...
When asked what he most wanted LMN readers to know about him, Moe replied by saying that he was just so very appreciative of the all the help and encouragement he has gotten from different people over the past, especially his fans. He meant it, too.
Moe Bear and the Grizzly River Band are booked at the Colonial Gardens for New Year's Eve. They will be back at the Red Bird on January 2 through 4 and again on January 9 through 11.