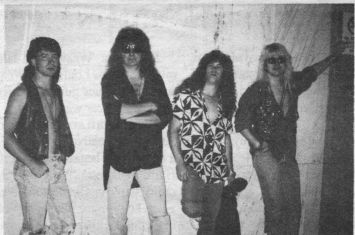 Contagious: L to R: Rodney Isaacs, Jim Viger, Richie Wylander and Steve Sizemore
A Very Contagious Show
By Paul Turner
Group: Contagious
Musical Style: Mainstream rock; classical rock w/an edge; "Songs that Survive"
Players: Jim Viger, vocals. Formerly w/Steel Breeze, Jeff Watson Band, Jim Viger Band; David Sizemore, drums; Ritchie Wylander, bass; Rodney Isaacs, six string.
Following hotbed: Eastern Kentucky, working their way home to Louisville.
Current Cassette: Long Time Coming Availability: Better Days Records, Ear X-tacy, Electric Ladyland.
Contributing Songwriters: All band members; Brad Gillis, David Sikes. Recently, Sikes, who is the bass player for Boston, sent Viger ten songs for his birthday. They are currently working them into the repetoire. Gillis is also slated to produe an upcoming project.
Stage Show: "In these days of the MTV generation, a musician needs to be entertaining. They visual is vital and the show needs to reflect that. The band practices an arena mentality: play as if the audience is 20,000 strong - even if it's 20. Give 'em something more - always."
Upcoming schedule: Savannah, Ga; Caddy's, July 6 for Battle of the Bands; Atlanta, Ga; Myrtle Beach, S. C.; northern dates to follow. Recently re-formed, Contagious got on stage to learn each other's moves and accidentally won the right to continue in the competion.
Recent Discovery: In preparation for the road gig, the band recently had a slumber party to see who snored. Nobody did.
Short term goal: to do their part to made the rock 'n' roll scene in Louisville "a better place to play." We need a couple more original music clubs to make showcases available.
Long term goal: Strong out of town recognition. Currently they are in touch with MCA/Geffen.
Special thanks: To the Far Out All Stars for all their help and support. Brad - nice drums, Rob - great chops, Dave - all around standing O. Special thanks to Louisville Music News for putting Jim Viger in touch with the band through \the free musicians' classified.