Covenant '92 at Aldersgate UMC
By Phil Sterling
The summer outdoor concert season launched Christian music from the tape deck to the stage and it seemed that there couldn't have been better surroundings. Even the heat from the days preceding the festival gave way to cooler temperatures as the bands' music got hot at Covenant '92, held at Aldersgate United Methodist Church on Dixie Highway in Louisville. This year's lineup included Stranger, Bride, Shophar and Geoff Moore and the Distance.
First on stage was Stranger, who are a terrific example of local talent and testimony. The lyrics of their tunes really had an impact.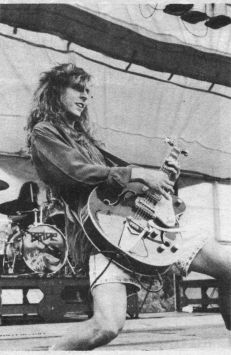 Troy Thompson, Bride guitarist and Jerry McBroom, drums, at Convenant '92. Photo by Pete Strojny
Bride, fresh from the studio, opened their powerful set with "Picture Perfect" from their sixth album, Snakes in the Playground, which they had just wrapped up. The dose of heavy metal continued with "Fallen in Love," "Young Love," "Hired Gun/Troubled Times," "Everybody Knows My Name," "Under the Influence," which is about the 1988 bus crash, and two more songs from the new album, "Some Things Never Change" and "Psychedelic Psycho Jesus."
Dale didn't break into "Knockin' on Heaven's Door" like he did at the Evangel concert in March, but he did deliver the most effective part of a Bride concert – one of his mini-sermons. His definition of why Christian rock and metal music exists is "for Christians to stay where they are and for non-Christians to get where they should be."
The four-and-a-half hours between shows was filled with seminars and opportunities for fans to talk to the people behind the bands.
Shophar broke the musical silence by playing an MTV-style unplugged set. The crowd got noticeably thinner as the day wore on.
Headliners Geoff Moore and the Distance played their best music from the last few albums, including "One Brand of Truth," and "Rescue Me." A Nashvillian, Geoff has performed with some legendary performers, such as Larry Norman, Steven Curtis Chapman, Charlie Peacock and Eddie DeGarmo. He continues to be the driving force of the band, fine-tuning their direction with each album they release. Their last two efforts on the Forefront label have emphasized the modern pop sound that will certainly please most audiences.
Their last songs were from "A Friend Like U" and 1990's "Pure and Simple." Geoff Moore and the Distance are mellower than Bride, which helped give the one-day festival its wide appeal.
Tom Hudson, Covenant '92 coordinator, remarked that the festival went very well musically, but since Louisville has no outlet for Christian rock music on the radio, it's difficult to get the word out to the people who might enjoy this powerful style of evangelism.
No definite plans are in the works for Covenant '93, but there have been discussions about getting Mark Farner, former vocalist for Grand Funk Railroad, for the festival next year. We can only hope.
The next Christian Rock festival will be Newsong '92, held at Camp Loucon near Leitchfield,. in Grayson County, Kentucky, on August 21 and 22. If you';re into festivals and listening to some great live rock and roll, make your plans now to rock for the Rock this summer.
Phil Sterling writes for Heaven's Metal magazine and is the host and programmer of the Christian Rock program "Higher Power."