July Music Is as Simple as...
• By Bob Bahr
• Only a blockhead would say Louisville lacks a great music scene, especially in view of July's music forecast. For the next month, it's mostly sunny, with a chance of mediocrity. Peruse the choices, laid out here from A to Z.
• Although Leon Redbone appears on television hawking beer, cars and other various and sundry items, the hawk-nosed man is anything but commercial. An unduplicatable singing style and a passion for songs of the 1920s marks Redbone as one of the most eccentric entertainers around. See him at Phoenix Hill Tavern on Sunday, June 28.
• Before "Fooled Around and Fell in Love" was a hit, Elvin Bishop worked a stint as guitarist for the Butterfield Blues Band. His show Monday, June 29 at Flaherty's promises to be an appropriate mix of blues and pop.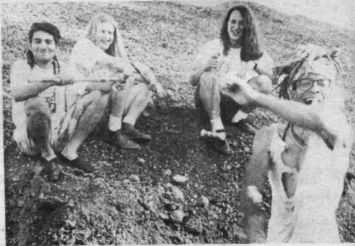 The angry-go-lucky NIL8 will play at Tewligans on July 7
• Caustic and cynical, Warren Zevon's lyrics can cut with the severity of tempered steel, but his songs also deal with the "cuttee." His poignant sketches of sorrow add empathy to the mix, rounding out his role as entertainer. See this consummate songwriter solo at Hurricane O'Malley's on Tuesday, June 30.
• Dinosaurs didn't completely die out, some are still thundering around to mid-sized venues. The "heavy metal thunder" of John Kay and Steppenwolf will come to Phoenix Hill Tavern on Wednesday, July 1. You may want to make a side-trip to the Roof Garden to see the ballyhooed 15 Minutes.
• Even though his popularity has dwindled, Huey Lewis & the News is still playing stadiums. Of course, the pop phenoms of the '80s now serve as the second "game" of minor league baseball doubleheaders. Watch this year's fine Redbirds team play the Buffalo Bisons on Thursday, July 2, then stick around for Huey's horn-accented power pop. If you so choose.
• For a good time, call the Bonedaddys...and get world beats, funky rhythms, and a dance groove deep enough to meet civil defense specifications. The Bonedaddys tornado hits Jim Porter's Good Time Emporium on Thursday, July 2.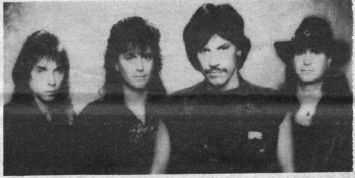 Looking for adventure? Check out steppenwolf at the Phoenix Hill Tavern July 1
• Gracing the lawn of the Water Tower on July 3, 4, and 5, will be the Waterside Blues Festival, a blowout of local and national blues acts headlined by luminaries Marcia Ball, Charlie Musselwhite, Pinetop Perkins and Lonnie Brooks. The two-day event will also feature the Legendary Blues Band (Muddy Waters' old band), Big Shoulders, MR2 Blues Band, da Mudcats, Rib Tip Kings, Metropolitan Blues All-Stars, Smoketown Red, Pinkerton & Norris, Curtis & the Kicks, John Burgard & Jim Rosen, and the Beat Daddys. Arts & crafts and food and beverages from local restaurants will be available. Tickets range from $2.50 to $7, with a three-day pass available for $18. It all takes place rain or shine at Zorn Avenue and River Road, thanks to the Louisville Visual Arts Association, the Bank of Louisville and Budweiser.
• Haul out the picnic baskets, and chill the red Jell-O, because the Louisville Orchestra is hosting an Independence Day picnic/performance at the Louisville Zoo. The program is part of the LO's "Roarchestra!" series at the Zoo. A red, white and blue picnic contest will be held before Albert-George Schram conducts a program of patriotic music. Tickets are $10, call 584-7777 for more information.
• If it's been a while since you heard educator/performer Jamey Aebersold play the sax, make an effort to reserve a night between July 5 and 10. Aebersold and U of L instructor Mike Tracy will hold nightly recitals after the daytime sessions of the Summer Jazz Workshop at the University of Louisville School of Music. If you would like to do more than just attend the performances, call Aebersold at 945-3142 or Tracy at 588-6032 for tuition rates and other info.
• Just when you thought the guitars of post-modern alternative rock had stopped jangling, Echo & the Bunnymen visit the town. See this English band that was once the toast of college rock at Phoenix Hill Tavern, Sunday, July 5. It beats watching MTV's "120 minutes," although at $14, it's a bit more pricey.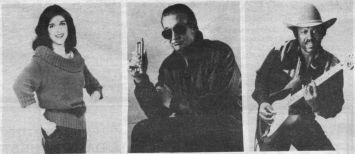 Appearing at the Waterside Blues Festival July 3, 4 & 5, L to R, Marcia Ball, Charlie Musselwhite and Lonnie Brooks
• Kindly suspend your disbelief, and check out Jonathan Gregg & the Lonesome Debonaires, a group of urbane, melodic country popsters from --where else? --New York City. Gregg and his Debonaires got rave reviews for their album, "Blue on Blonde;" see the band live at Butchertown Pub on Tuesday, July 7.
• Looks like a bad wind is coming from the North, namely the double bill of NIL8 and Mule. Mule is a trio fond of words like "carnage," "beast," "ferocity" and "wreckage." Their music is touted as a "pulsating, sex-beat rhythm storm" featuring "cowboy-jive guitar scrawlings." If that didn't scare you off, consider NIL8's proclaimed influences: Kiss, Queen, and Black Flag. The noise begins on July 7 at Tewligan's Tavern on Bardstown Road.
• Maybe he's funny in his stand-up act. That's the hope that comedy lovers harbor for Pauly Shore, MTV's yuckster and the star of the appealingly atrocious film "Encino Man." The comedian brings his surfspeak show to Hurricane O'Malley's on July 8 -- a Wednesday. Seats cost $15 and are available by calling 584-7777.
• Nearly as promising is Britny Fox, a siren of sex and leather, coming to Phoenix Hill Tavern on July 8. If hard rock sung by a British sex kitten sends you over, pay $9 and take a seat in PHT's Saloon.
• Outrageous comparisons are the norm in the music business, but the Kelly Richey Band has been hit with a doozie even by music biz standards. Guitarist Kelly Richey has stepped into the monolithic shadow of Jimi Hendrix, thanks to her recent press. A female Jimi Hendrix? To believe it, go see it at the Butchertown Pub, Friday, July 10 or Saturday, July 11. Situation Grey and Lamont Gillispie & the Homewreckers will be there that evening as well.
• Perhaps "The Grand Gentlemen of Rock 'n' Roll" is more your style. Conductor Robert Bernhardt will host the Four Tops at the Louisville Zoo as part of the "Roarchestra!" series. So grab your "Sugarpie, Honeybunch" and $20 and head over to Trevilian Way on Saturday, July 11.
• Quitting seems to not be an option for Peter Frampton, a guitarist/singer that chases fame with the luck of a dog chasing his tail. Frampton was briefly a star in the '70s when he talked his record company into releasing a live, double-album instead of dropping him off of the label. The resulting album "Frampton Comes Alive" was a smash. Since that breakthrough, Frampton has had less spectacular luck. Still, wouldn't it be cool to hear "Do You Feel Like We Do" in concert? The July 12th show is at The Commons, outside of Cliffhangers at the corner of Lexington Road and Payne Street. The Storm, featuring ex-members of Journey, and the Hammerheads open the show.
• Rear-ends are on the mind of hip-hop rhymer Sir Mix-A-Lot, as evidenced by his current hit "Baby's Got Back." Join the bubble-butt brigade and bring your ample...sorry, I got carried away by the spirit of the thang. Sir Mix-A-Lot has a voice like Hammer's, with a good vocal delivery that Hammer lacks. Check him out at the Palladium on Monday, July 13.
• Saxophones of a classical nature will converge at the University of Louisville School of Music for the Saxophone Institute, a concentrated study of classical sax. The workshop runs from July 13 through 19, with nightly performances by faculty and students. Call Dr. Lee Patrick at 588-6972 for information.
• Those of means can jet down to Jamaica for the Sunsplash reggae festival, but us landlocked suckers have to content ourselves with the ska and reggae of Freedom of Expression, Nashville's finest. They're at Uncle Pleasant's on Preston Street for a July 17 show. Maybe F.O.E. and the crowd will heat up Mark Smalley's place to the same temperature as the Jamaican sun, allowing you to close your eyes and delude yourself. Don't laugh, with a few of Uncle P's Jaegermeister specials down the gullet, you can convince yourself of anything.
• Undeniably hip since his classic 1960 recording "Time Out," Dave Brubeck is the essence of cool jazz for some folks. The pianist's quartet comes to the Zoo for another "Roarchestra!" concert, this one without the music of the Louisville Orchestra. See the Dave Brubeck Quartet on Saturday, July 18 at the Zoo. As always, the number to call for info and tickets is 584-7777.
• Vying for your Blue Boar dollar is Louisville Gardens and the irrepressible Wayne Newton. A pricey $22.50 ($27.50 for table seats) gets you in to see the man who made "Edelwiess" more than a flower. Newton is the first performer in Louisville Gardens' new "Garland of Stars Presentations," a showcase for "quality entertainers" presented in a cabaret atmosphere. The stage and seating area will be split in half by a large curtain, and seats will be arranged on the floor in front of the stage for an intimate setting. Newton's show is on July 28. Call 584-7777.
• Week and Weekend, the eight-day stretch from July 24 through July 31 belongs to Kentucky Music. Organizer Nancy Barker promises that the Kentucky Music Week, which traditionally features classes and workshops given by instructor/musicians, and Kentucky Music Weekend, when the stellar faculty performs at the Iroquois Park Amphitheater, will be better than last year's noteworthy event. For more information, call 502-348-5237.
• X marks the spot at the Kentucky Horse Park where a star-studded group of Kentuckians perform in the Kentucky Family Reunion. Country stars Ricky Skaggs, Steve Wariner, Tom T. Hall, Exile, John Conlee, Marty Brown, the Kentucky Headhunters and Pee Wee King with Redd Stewart are headed to Lexington for the two-day event, July 25 and 26. Gates open at 9 a.m., performers take the stage at 1 p.m., and you need only take one bone to the Horse Park for parking -- admission is free.
• Yet another "Roarchestra!" performance closes the series on the 25th, with the Louisville Orchestra making up for its absence at the Brubeck show by devoting the last concert, entitled "Our Stars Are Out Tonight," wholly to classical music. LO Music Director Lawrence Leighton Smith will conduct Handel's "Water Music" and several movements of Holst's "The Planets." All proceeds from this show will go to a pension fund for LO musicians.
• Zooming through ten days of performances in a single bound, it's the super series known as the Lonesome Pine Specials. Eclectic music fans need to set aside their nights from July 21 to July 31 (and a sack full of money) for the Summer Festival 1992 that will be taped for broadcast on public television. The lineup is truly spectacular; see the story on the Lonesome Pine Specials on page . Or call 584-7777 for information.