Marshall Kellam's Light Shines
By Paul Turner
It was a slightly overcast afternoon on the Ohio river one Saturday recently, but a little more than halfway into our evening on the Star of Louisville, the sun came shining through warm and brightly. The setting could hardly have been more appropriate: it was almost like attending a floating church service.
I was fortunate to be among family and friends aboard the Star to celebrate the launching ofMarshall Kellam's new album,Chosen. Those present were treated to some very enjoyable music as Marshall performed a number of selections from the album with track accompaniment.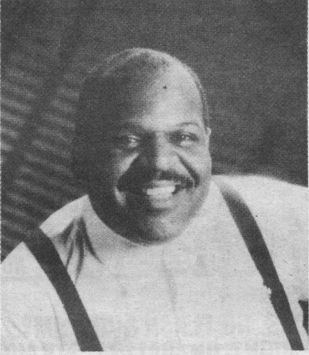 Marshall Kellam
Also on hand to share their musical talents were Marshall's sisterRobyn, "very soulful sister"Freida Hall,Deborah Morris, and Marshall's producerJeff Lippencott. The ladies each contributed a solo effort then combined with Marshall for a very inspirational "Amazing Grace."
Chosen, just hot off the press prior to the cruise, was recorded and produced in Nashville by Lippencott for White Light Productions. Marshall chose Lippencott to direct his project as a result of Jeff's involvement in the music of theWinans.
Throughout the album, Lippencott's arranging and producing provide a tasteful and complimentary backup for Marshall's vocals through a variety of styles, yet keeping a total continuity within. Although the album is strong overall for those reasons as well as because of its well-chosen material, certain selections do stand out.
The title track, composed by Marshall, Lippencott and Deborah Morris, is certainly worthy of the title slot in terms of its message and lyrical hook, coupled with its strength musically. As with all of Marshall's material, his live performance of his songs is very captivating and this is a prime example.
"God Still Reigns," co-written withBobbie Mason, offers Marshall the opportunity to move into a contemporary gospel vein, not unlike something heard from a fellow Louisvillian,Larnelle Harris. Also bordering on gospel pop lines is "Of Course," which may become a signature tune for Marshall. Louisville radio station WJIE has earmarked "Chosen" and "Of Course" for airplay.
With his vocal richness and strength, Marshall is very capable of more traditional performances, as in "To Live In Christ" and the anthem "He Is Able."
It has been a joy to many, including myself, to witness the attention Marshall has enjoyed recently. Since last year, when Marshall won the Creations II singing/songwriting contest, his music has been moving in exciting directions. He also won the Bobbie Mason artist competition held here in Louisville and subsequently competed at the Christian Artist Seminar in Estes Park Colorado.
Staying busy with performances throughout the Louisville region at various churches as well as civic organizations and community events, it is always very apparent that Marshall loves his music and his audiences.
In case you're not familiar with Marshall Kellam and his music (and there are fewer of you all the time) you can "meet" him on his tape> Chosen, which is available (as of this writing) at Wellspring Christian Bookstore, Berean Bookstore and the Baptist Bookstore. I have to admit, however, that in order to get the full effect of his music, you need to "be there – live."
As his song "Of Course" says,
We may have heard the message a million times before
But then one day we hear it like it's never been said before.
And you have never heard it quite like Marshall Kellam has sung it before.
For concert and booking information, contact Kaiser and Associates, c/o Debra Kaiser, 1004 Ash St., Louisville, KY 40217. The telephone number is (502) 634-4172.