Kentucky HeadHunters Update
By Jean Metcalfe
I'll have to admit that it didn't come as a large shock to hear that The Kentucky HeadHunters would be making some changes.
They hadn't seemed to be playing many dates and their accomplished guitarist Greg Martin was playing in a group called Mud Mouth and frequently sitting in with other Louisville musicians.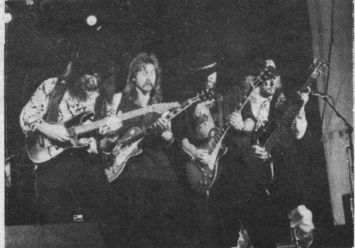 Lynyrd Skynyrd with Kentucky HeadHunter guitarist filling in for Ed King, who had suffered a broken finger. L to R, Randall Hall, Greg Martin, Gary Rossington, & Leon Wilkeson
Greg had done some traveling down south and was photographed with a wax figure of Muddy Waters, whose music had influenced him.
And certainly not the least of Greg's recent gigs was playing nine dates with Lynyrd Skynyrd while Ed King's broken finger mended.
"It was a big honor for me, to say the least and I must say an education," Greg told me.
With the departure of brothers Ricky Lee and Doug Phelps in a "friendly parting" ("We're all still the best of friends," Greg said), the HeadHunters went in search of replacements. They chose Mark Orr, who had been the lead singer with Midnite Special, to replace lead singer Ricky Lee Phelps; and Anthony Kenney, to replace Doug Phelps on bass guitar. Anthony was once a member of the band Itchy Brother, which was a forerunner of the HeadHunters.
Richard and Fred Young and cousin Greg will continue with the HeadHunters.
According to Greg, "We will continue recording for Mercury-Nashville and begin recording our third album soon. We also start our summer tour June 26th in Cincinnati (Bogart's) so we've been working our tails off getting the new guys worked in. The new band is sounding really good and I'm excited about the new material."
On July 18 the HeadHunters will be playing a show for Munfordville's WLOC Radio to "help raise the tower."
Can't wait to hear the new group.