Songwriter of the Month
EARL MEYERS
The LASC Board of Directors, in order to recognize the accomplishments and work of Louisville songwriters, has elected to feature a Songwriter of the Month in the LASC Letter. By unanimous vote,Earl Meyers was chosen for the first feature.
Born and raised in Radcliff, Kentucky, Earl received an MA degree from Western Kentucky University before moving to Louisville. He lives here with his wife of seventeen years and two daughters. He has been an educator for 19 years and is currently teaching at Southern High School.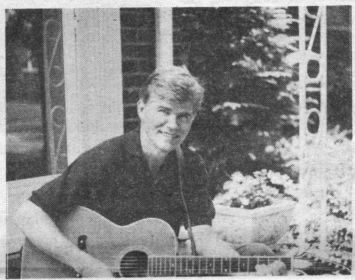 Earl Meyers
Earl played drums as a youngster and counts gospel and country music as his early influences. In later years, he listened more to pop and rock. It wasn't until 12 years ago that his musical interest turned to writing songs.
After he had been writing for a couple of years, he heardMickey Clark talking on the television about a songwriters workshop. This was the beginning of his involvement with the Nashville Songwriters Association, International.
Along withRichard Lee andTony Lindauer, he helped get the first NSAI Louisville workshop started. Tony Lindauer was the first coordinator of the Louisville extension of the NSAI, which is the longest running NSAI music workshop. Louisville has the oldest extension at 10 1/2 years. Earl has been the Louisville coordinator for the last four years. If that wasn't enough, Earl has been an active member of the LASC since its inception in 1986 and is a member of the American Society of Composers Authors and Publishers.
If any one reading this is planning on entering the LASC Songwriting Competition in August, then Earl will be one of your competitors, having won at least one category in four of the last five years. In 1987, the song "Touch of Fire" was the Grand Prize winner. Audiovisions subsequently did a professional production of the song. In 1987 he took the prize in the Country category and in 1990 and 1991, he captured the Children's category.
When asked what advice he could give to new songwriters he said. "If you have a strong desire to be the best you can be, then learn as much as you can about music through organizations like the LASC and NSAI. Determination has a lot to do with success. "
"Success has a lot of levels. If you write a song, then that's a level of success. If you want to make your songs commercial, then there is an amount of learning that takes place that comes from reading, writing, listening to music, and from absorbing as much as you can from critiques. Learn about song structure, melody and lyrics."
I asked "What is the most important part of a song?" He answered, "The idea and the melody. Also, the structure and the hook, but that depends on the music. The most important things is communicating with the listener."