The Smithereens Deliver at Phoenix Hill, Prove They're Here to Stay
By Kevin Gibson
The Smithereens go through more guitar picks in one show than most bands do in a month. The customized, logo-emblazoned picks they use can't be cheap, either.
Still, lead guitarist Jim Babjak and lead singer/rhythm guitarist Pat DiNizio keep flinging them into the audience in such great abundance that they occasionally run out of picks for their own use. At least that was the case when the band appeared at Phoenix Hill Tavem on May 28.
The quartet delivered in a big way and not just in free picks and drumsticks. The two-hour, two-encore show had the packed house at the Hill dancing like natives, much to the pleasure of the Smithereens. From a sparkling, guitar-oriented version of the group's latest hit, "Too Much Passion," to brief covers of Lynyrd Skynyrd and Led Zeppelin — just to make sure everyone was paying attention — the audience walked away knowing it got its money's worth.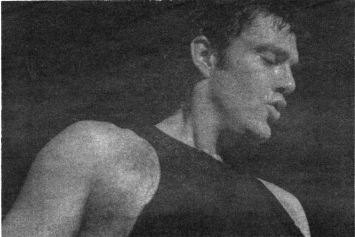 Smithereens bassist Mike Mesaros. Photo by Kevin Gibson
Even more, the members of the audience left with a feeling that they were a part of the show, instead of feeling like just so much scenery. Making the audience feel appreciated comes easy to this band.
"That's what it's all about," said Babjak. "I'm not interested in being a rock star. It seems like being a rock star comes first to a lot of bands; music comes first with us."
The Smithereens have seen their music's popularity grow steadily over the past 10 years since the 1983 EP Beauty and Sadness. The band's first big single came some three years later with "Blood and Roses," the driving force behind the Smithereens' first full-length LP, Especially for You.
From there it was l988's Green Thoughts and the singles, "Only a Memory," and "House We Used to Live In"; l989's Smithereens II, with the singles, "A Girl Like You," and "Blues Before and After"; and, finally, the late-1991 release, Blow Up and the lead-off single, "Top of the Pops."
Each of these albums and singles gave the Smithereens more respect as one of the top rock bands in the nation, if not the world. Throw in the fact that they have one of the better live acts one will likely see in any venue and what you have is a recipe for success.
Of late, though, the hard edge has gone a little softer. Oh, the Smithereens have always included excellent rock ballads on their albums. "In a Lonely Place," from Especially, was a single and the band also released the smoky "Blue Period" from II.
More recently, though, "Passion" has made some noise on the Top 40 charts with its soft strings and Motown hook. The next single release from Blow Up, "Get a Hold of My Heart," returns to heavy guitars and bass, but still has a Top 40 feel both lyrically and with its romantic hook.
This trend isn't necessarily by design, Babjak said, but it's still a good way to reach a wider audience. It must have worked: the Smithereens made appearances on "The Tonight Show With Jay Leno" on June 9 and on the "Dennis Miller Show" on June 24 to promote the new tune.
The band made those stops after wrapping up the Blow Up tour in early June. Next, it's a little R & R, lots of songwriting and back into the studio in February.
"We've been touring since October," Babjak said. "Even though we're still putting out singles, we have to start working on a new album."
Babjak said he has written six songs for the next release. Compared to his total of three songs from the previous four LP releases, that's quite a lot. DiNizio, who has done most of the writing in the past, is also composing new music currently, but he'll have to share more time and liner notes with his guitarist on the next album.
"I'm starting to write more," Babjak said. "I used to be a little embarrassed to write lyrics. Then I started hearing this stuff on the radio and I said, 'Hey, I can do better than that.'"
Babjak songs the Smithereens have recorded include "Especially for You," a ballad from the Green Thoughts album; "Cut Flowers," a spooky love song on II which was inspired by Joe Di Maggio and Marilyn Monroe and "Now and Then," a hard rocker which leads off side two of the latest release.
It will make Smithereens fans very happy to know that burnout is not anywhere on the horizon. Babjak, DiNizio, bassist Mike Mesaros (dubbed as "The Mel Gibson of the bass guitar" by DiNizio) and drummer Dennis Diken have been together for well over a decade. Babjak and Diken, childhood friends, were making music together for years before the Smithereens' birth.
Babjak said he can't imagine doing anything else.