The Whole Truth . . .
By Paul Turner
And you shall know the truth and the truth shall make you free. (John 8:32)
That was the personal testimony given by Valley View Baptist's Music Minister Don Williams as he introduced Roger Breland and his 14 member group Truth there at his church where they performed recently. Seventeen years ago in a youth camp in the Carolinas, Don first encountered the music and the message of Truth.
Truth, which is an acronym for Trust -- Receive Unchangeable True Happiness In Jesus -- has compiled an impressive array of stats: over two million miles traveled to play over 6,000 concerts, using over 300 members, with 40 albums to their credit as they celebrate 20 years of music.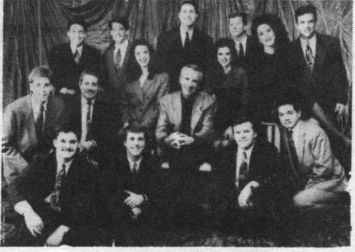 Under the guidance and musical direction of Roger Breland throughout the years, many faces have come and gone through the wings of Truth. Some are still going such as Steve Green, Steven V. Taylor, Dick and Mel Tunney, and 4 HIM to name a musical few.
Their performance at Valley View certainly had the poise and polish of a well-seasoned unit musically and in their ability to entertain and minister. Although it seemed at times a bit too restrained, it must have been a solid performance _ my son and I both enjoyed it - and he's 10 - and I'm not!
To illustrate their diversity, I recognized the Southern Gospel tune "The Gatherin," Ricky Skaggs' ballad "Somebody's Prayin',", the most articulate arrangement of "How Great Thou Art" I will probably hear until I reach the other side of the Pearlys, and Andre Crouch's "Jesus Is The Answer," which concluded the evening.
Of course there were many others including a song that Roger introduced as their most unusual and effective in their 20 years _ their recent chart-topper "Living Life Upside Down," which refers to our society's present moral standards (or lack of them).
Amidst the music were stories of a few of the many lives Truth has seen changed worldwide over the years. A couple of those unfolded to become those of members now in the group.
It all goes to prove the point that indeed some things do change while others stay the same. While the faces, the voices and the music of Truth may change, its message stays the same.
That's the TRUTH.
Stay tuned to WJIE for their new single "Listen".