An LMN Exclusive Interview with Jeff Watson
Paul Turner
Jim Viger, lead singer for the local band Contagious, recently put me in touch with our mutual friend and jammin' buddy Jeff Watson, who is shakin' the music scene from the West Coast inland.
Formerly the guitarist with the pop band Night Ranger, Jeff has had extensive worldwide tours, and multi-platinum success. He has his own Hamer signature guitar model, considerable press acclaim, his own "Star Licks Master Series" instructional video and all the rest that naturally follow one of the most exciting and creative guitarists to emerge in the Eighties.
I talked with Jeff by phone recently, and between catching up on old friends and bandmates, found out about his recent musical efforts.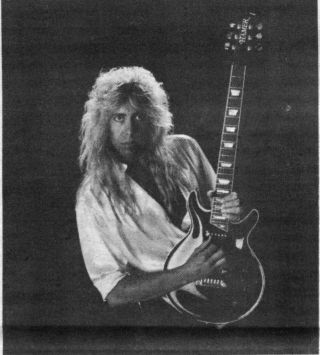 Jeff Watson
One track on Jeff's recent solo album, Lone Ranger, is the high-powered "Hi-Yo Silver," which is very reminiscent of the Dregs,. It features Jeff's guitars, Bob Daisley's bass and drums by Carmine. The trio, who were not a band at the time, have decided to become one, in part because of the kind of sound they achieved on this track. The common threads of musical abilities, direction and their individual work ethic have drawn them together and tied a musical knot.
Considering Bob's and, of course, Carmine's capabilities and legacy, they are a musical force to be reckoned with – even without a vocalist! It is very likely we are once again standing on the cutting edge looking over at a Led Zeppelin or Black Sabbath.
According to Jeff, although a tour was talked about after the Lone Ranger release, none ever happened. However, somewhere in the hills of Marin County, California, is a rocking ranch fully equipped with a 24-track studio where Carmine keeps a kit set up.
"Bob Daisley's musical influence is strong in terms of the band's overall direction," Jeff points out.
"We're not limiting ourselves musically to airplay-designed material," Jeff said. "We are focusing instead on our own brand of rock that feels good to us. Our sound is remotely radio accessible, but we realize that trends change to accommodate the latest wave, producing new trends such as ours. Then comes the commercial response and the acceptance that follows.
They are auditioning vocalists to join them in this rock happening. Jeff asked that names not be revealed, but they are ones you would certainly know.
"Once the right vocalist is chosen – and we're in no hurry to rush into a decision –" Jeff adds, "we could stay intact for years. The right relationship is much more important than the timetable at this point."
Lone Ranger is an entirely instrumental work – except for the vocal scats by long time friend Sammy Hagar and pet sounds by his dog Zeus, his horse Cziko and his goats Roscoe, Sparky and Petey.
Other recognizable credits include such good friends as Steve Morse (Dixie Dregs, Kansas, Steve Morse Band), guitarist Alan Holdsworth, drummer Carmine Appice (Vanilla Fudge and Rod Stewart), David Sikes (Boston) on bass, and Bob Daisley (Ozzy Osbourne). Jerry Marquez earned the mixing credits.
You probably haven't heard the album – I had to hunt to find one, going so far as to call the record label, Shrapnel, in California. But happily, Ear X-tacy had one after all, thanks to John Timmons.
Whether you're a seasoned guitarist or an accomplished listener, you would most likely enjoy the album. However, between his eight-finger technique and his sheer speed, you'll never pull off the licks as played. It's nice to listen and dream, though. It is a piece of virtuoso guitarmanship – so far is it beyond simply "playing."
Scheduled on the new group's calendar is an album and a tour to include the U.S. and Japan. According to Jeff, there are a couple of concert possibilities in the Louisville area in the late summer or fall.
So Kemo sabe . . . until the group rides onto the scene, check out the Lone Ranger album.
Paul Turner is a drummer and guitarist performing with Ray Boltz, in addition to being advertising manager for Louisville Music News. He played with Jeff Watson some years ago on the West Coast.