Billy Preston at Hurricane O'Malley's
By Paul Turner
Some of us take the day. Some folks take a week off and some a month. Billy Preston got real serious and took the Eighties off. Many will recall Preston as the man who stole the show – and the hearts of millions – during the Bangladesh benefit (the original rock 'n' roll benefit, as Billy calls it). During that show, his organ dominated his "That's the Way God Planned It" and inspired him to strut his stuff across the stage to bring down the house. He in fact claims that as his theme song and adds, "He must have wanted things this way."
Many years and hits have passed since then and on May 12 at Hurrican O'Malley's he treated us to just about all of them: "Born Again," "Circles," "Simple Song," "Nothin' From Nothin' " and "You Are So Beautiful," wherein he sang a verse that he had written for the song but that Joe Cocker had decided not to do on his version.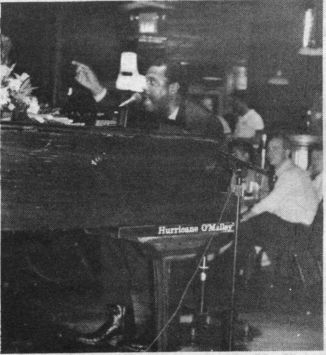 Billy Preston. Photo by Allen Howie
He also included in his set a tribute to "the boss Beatle" – doing his own interpretation of "Imagine" and "(All John was saying is) 'Give Peace A Chance,' then into a rendition of "Let It Be." He also reminded us (as if we needed it) of his part in "Let It Be" as he sang "Get Back" from the movie. I don't know about the rest of the audience but I was just about back on a rooftop in central London when he broke into his only original classical piece, "Minuet for Me," which ran from technically classical to heavy jazz and into borderline whimsical. He liked it, so we did, too.
Which brings me to Billy's secret strength. He pleases a crowd as well as he ever did. He's comfortable between songs and works hard performing the tunes themselves – even to an O'Malley's-sized crowd. As an old Beatles and Stones fan (from whom he drew in his encore by doing "Satisfaction") I was impressed and the audience was very entertained as he gave and gave some more.
I also quickly came to the point where I was anxiously awaiting each song's instrumental break. Billy would interject his own unique style of playing, combining gospel, jazz, rock and classical with his tremendous energy (I think his boot pounding put a hole in the wood floor) along with his sense of humor and strong desire to deliver a pleasing performance.
Ray Charles has a special place in Billy's music and heart as his acclaimed idol. We were treated to a very good likeness in voice, piano and visual image to the obvious enjoyment of all through Ray's hit "Georgia."
My only remark on the downside was the absence of any new material to find what's he's been doing musically lately. Although his band was in attendance, his act was solo. His guitarist is from Louisville and Billy was quick to point out the home boy. Right on, Ken. We're proud of you.
All in all, it was a fantastic opportunity to catch a hard-working legend doing what he obviously enjoys – pleasing a crowd. After all, it had to be that way 'cause "That's the Way God Planned It."
Opening for Preston was Phil "The Party Comedian" Kelly, who seemed true to his continual promises: "We're doin' 'em all, taking requests for various artists and doing a tune from each in musical characterization form" (and unbelievably so!). He did everybody from Jimmy Buffett to Randy Travis to Michael Jackson and Lou Rawls. His Leon Russell impression was especially good.
Kelly had help from members of the audience on some songs. Not turning down a single request, he even pulled off Lou Reed!
Then picture this: he switched to getting requests for TV theme songs and everybody in O'Malley's was rocking and singing the themes to "Rawhide," "Gilligan's Island," "The Addams Family," "Get Ready: The Brady Bunch" and "Green Acres."
Having a party soon? Invite Phil Kelly. It sure worked for Billy Preston.