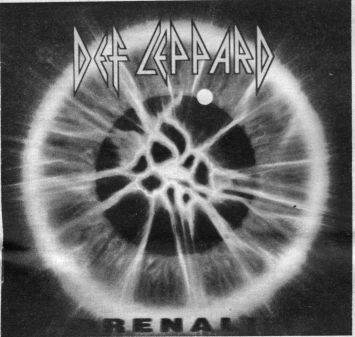 Adrenalize (Mercury)
Def Leppard
By Rob Frayser
Do you wanna get rocked? If the answer is yes, put down this paper, go to your favorite music vendor and buy this disk (or tape). Four and a half years after the release of Hysteria, the British rockers Def Leppard have picked up right where they left off -- on top of the hard rock music world. Adrenalize is 45 minutes and 27 seconds of Def Leppard at their polished best, despite the death of guitarist Steve Clark in January of 1991.
While Hysteria took almost a year before taking off on its way to a hard rock record 13 million copies sold, Adrenalize made its debut in the number one position. It is still there three weeks later and shows no sign of fading as the new Springsteen releases have.
As a band, Def Leppard seems unusually prone to mishap and tragedy -- founding guitarist Pete Willis was kicked out for alcohol abuse during the recording of Pyromania in 1982, drummer Rick Allen lost an arm after an automobile accident in 1984 and guitarist Steve Clark died of alcohol-related causes in 1991. Despite this adversity, the band has continued to develop musically and with Adrenalize has put out their best work to date. The Voice is once again handled masterfully by Joe Elliot, who vetoed the idea of naming the album Dementia. The traditional four-string bass is replaced by a Hamer five-string for Rick Savage, who also plays acoustic guitar on "Tonight." Phil Collen, who replaced Willis in 1982, does a great job in handling all of the electric guitar work on this disk. This does not cause a noticeable difference in the Def Leppard sound, as he did most of the guitars on Hysteria due to Clark's alcohol problems. Rounding out the group is drummer Rick Allen, who provides the songs with a powerful rhythm with the aid of his specialized drum kit.
While no song seems to jump off this digitally encoded piece of plastic like Hysteria's "Pour Some Sugar On Me," there are several worthy contenders here. Nearly every song features the trademark vocal harmonies that set Def Leppard apart from the rest of today's heavy metal bands. The opener, "Let's Get Rocked," starts the disk off with a bang and from there the Lepps don't let up. Expect no socially conscious lyrics here. The subject matter is the most familiar one in rock -- boy meets girl, boy listens to rock, girl listens to Beethoven, boy loses girl, etc. The rest of the disk is much the same story, but told differently musically each time out. "Heaven Is" is a straightforward rocker that could turn out to be this album's sleeper hit. "Make Love Like a Man," featuring lyrics like "don't call me gigolo, don't call me Casanova, just call me on the phone, and baby come on over, when you need someone, when you need someone to make love like a man," figures to be a favorite of the macho 'Beer Commercial Man' crowd. The pace is slowed somewhat on the pleasing "Tonight" which is possibly the best ballad Def Leppard has ever recorded. "Stand Up (Kick Love Into Motion)" is a direct musical descendent of the title cut from Hysteria, but is superior in both pacing and lyrics. The last new cut on the disk, "I Wanna Touch U" sums up the mood and feel of the entire disk: "Give me no reason, give me no rhyme, give me that feeling, all of the time . . . I wanna touch you, because a little too much could never be enough now."
The surviving band members include a nice dedication to Clark, as well as a recap of "Life at the Top" for the past three and a half years in the liner notes. While I consider Adrenalize their best album to date, I feel it could have benefitted from a bit of the subject matter diversity that was evident on their two previous albums. That said, I am eagerly awaiting the announcement of U.S. tour dates that will, I hope, bring them to our city. (I am also looking forward to the release of their next album -- which should be sometime before the turn of the century).