Grand Dads Bon Voyage Shuffle By Paul Turner
A sudden resurgence of attention has been drawn to Louisville's senior ambassadors of rock 'n' roll. As The Shufflin' Grand Dads shuffle off to Mainz, Germany, for an early-June stint in conjunction with Sister Cities of Louisville, they have a brand-new tape available, coinciding with the May 21 bon voyage concert at Jim Porter's.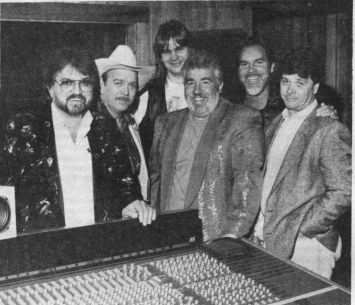 L to R, Marvin Maxwell, Ron Payne, Pete Peterson, Tommy 'Cosmo' Codon, Wayne Young and Gary Meeks. Photo by Butch Ellis
Just in case you're not familiar with the band's legacy and their music, keep your ears open. You're going to hear a lot about them. By the way, last month's issue of Louisville Music News featured the band. Considering the players themselves, their substantial and colorful rock 'n' roll past, their exciting present and their aspirations, it isn't surprising the interview became such an interesting and delightful article.
The Grand Dads (consisting of Marvin Maxwell, Wayne Young, Gary Meeks, Tommy "Cosmo" Cosdon, Ron Payne and Pete Peterson) definitely has a unique niche in the industry as well as in our city. And the name Shufflin' Grand Dads certainly paints a picture. But don't let the name or the picture on the album cover fool you. Not much shufflin' involved here. It's rhythm and blues and straightforward rock 'n' roll -- energetic, entertaining and loud. All the right ingredients for success. Catchy name, though.
Although Cosmo and Meeks trade off for most of the fronting and lead vocal duty, Young and Payne both took a turn at the helm during the set at Porter's.
All of the tunes except two, "Pride and Joy" and the closing "Whole Lot of Shakin' Going On" -- the only time Meeks and Cosmo shared the stage -- are on the new album.
Meeks, who writes his portion of the Grand Dad material, is solid, commercial rock 'n' roll sounding and is well arranged to a variety of middle-of-the-road styles.
Cosmo, on the other hand, has the "gift of grab" live as he practically hangs off of the front of the stage and really works to please the crowd with his own brand of R&B.
Personally, I would like to see more of a Cosmo/Meeks combined performance to double their shufflin' power.
Regardless of who was in front, the evening was driven solidly by the pulse of the band's rhythm and keys throughout.
All in all the Grand Dads rocked, the loyal fans applauded and now we all await another Louisville musical export to shuffle back home real soon. In the meantime we'll have to be satisfied with their new tape.
Opening and closing with sets during the evening were da Mudcats, delivering -- as usual -- some seriously grooveable blues from the bottom to the harp. Just right for a well-balanced evening.
l
For Shufflin' Grand Dad tape information call (502) 897-3304.