Behind the Scenes
Lawrence Leighton Smith
By Henry C. Mayer
"He's intense. He's able to filter through an incredible amount of new music and select the pieces for future programs. He's challenging. He has a good sense of humor. He's demanding . . . and he's very appreciative. He can work under intense pressure."
That's how a colleague describes the Louisville Orchestra's Music Director, Lawrence Leighton Smith.
But how does Smith describe himself? "I'm a lucky man. How many people get to do what they like to do for a living?"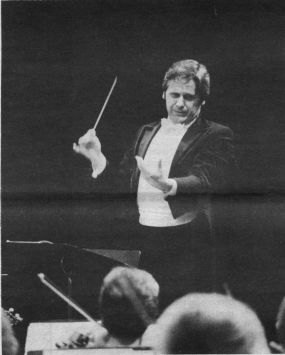 Some of those qualities, chiefly the intensity and being demanding are there for any observant concertgoer to see. Neither should they be surprising because without them, the Orchestra would not draw standing ovations, rave reviews and invitations to perform in Carnegie Hall, the Yankee Stadium of American music. Neither would Smith be invited to conduct in New York, Moscow, Tokyo or other places who can get the conductors they want.
In rehearsals, one sees a complete Smith. At differing times and as the occasion demands, he is listener, teacher, counselor and leader. He explains, encourages, corrects, clarifies and dialogues with his musicians usually in relaxed and first-name fashion. "We feel free to make suggestions to him," one Orchestra member told me.
A well-known singer adds, "He's wonderful; he has a fabulous ear; he's very easy to follow. He is always well-prepared. As a pianist and former accompanist for many singers, he knows what we need!"
Another person observed, "He's in charge but he listens."
A musician working on an opera with an Eastern Kentucky subject pointed out, "A good conductor has integrity, discipline, redundancy and coherence. Larry has all four."
Some persons think Smith has mellowed or at least relaxed since coming here nine years ago. One man showed me the picture used in an article shortly after Smith's arrival. The conductor appeared stiff, perhaps self-conscious, maybe even a little egotistic. By contrast, the painting in the Orchestra's offices shows a man who, though concentrating, was enjoying what he does. The situation is where all Louisville Orchestra concerts begin: with Smith at his piano. Perhaps one index to this talented, if complex, man is how many people call him "Larry." Walk with him down the hallway to his office; he calls all employees by first name and is usually smiling. Two generations ago no orchestra player, even the concertmeister, would have called Toscanini anything but "Maestro." In fact, a well-known Louisville musician recalled that during his music school days, Toscanini would lecture, but "I thought he was always full of himself."
One would not say that about Lawrence Leighton Smith.
Take your mental camera to a concert and here are some pictures you might record. At the conclusion of a difficult piece, Smith is quick to recognize individual brilliance by an Orchestra member, section or guest soloist. His apparently conventional handshake with the Concertmeister Michael Davis is sincere and genuine. Says Davis: "I'm his go-between with the rest of the Orchestra, especially our string section. Members use me to send him messages. You see, I'm in a better position than him to know what's going on. Letting him know that is an important part of my job." The rapport between Davis and Smith is especially apparent during rehearsals. Smith is not greedy for applause. And when we have a guest, it is clear that he wants the soloist to get all the gratitude, admiration, and enthusiasm which local audiences can express. Local audiences can be demanding.
Smith can rise to the unexpected demands. Nan Harmon, the Orchestra's personable and talented Director for Artistic Administration, recalled the following. "We had commissioned a piece from the talented Russian composer Sofia Gubaidulina. The Orchestra was well prepared to present her 20-minute opus when she was to arrive on a Monday just before the first performance that Thursday. The piece was difficult and challenging. Monday came and as we met her at the airport, she was very excited and even though she could not speak English, she just had to see Smith as soon as possible. It was extremely important, if not an emergency. Meeting Smith, who knows some German and Russian, she told him, "I kept thinking that the piece I sent you was incomplete so I worked on a 20-minute addition and here it is!" Smith rose to the occasion and when the complete piece had its debut on Thursday, it was performed to everyone's satisfaction."
Evaluating new music, especially due to our Orchestra's reputation for this type of musical genre, is a major and continuing activity for Smith. He told Louisville Music News: "There's really NO way to know clearly what music will endure. In their days, Hummel was rated above Beethoven, Salieri had more enthusiasts than Mozart and so on."
A native of Portland, Oregon, Smith noted, "I usually put in a 20-hour day. For recreation, I use my piano and try to play a vigorous game of tennis. But music is my drug."
His intense music interest began in childhood but it took the form of playing the piano. His academic training concentrated first on mathematics and engineering but, as he noted, "music has deep roots in science." A major breakthrough came when he captured the Dimitri Mitropoulos Competition. Smith emphasized that Mitropoulos "was a truly good and great man as well as a talented musician." The Award gave Smith his first chance to conduct Mitropoulos' orchestra, the New York Philharmonic, and led to other work such as with Erich Leinsdorf and Georg Szell, assisting the latter at the Metropolitan Opera.
That very name reeks with musical glamor and tradition yet Smith's role was that of an apprentice, conducting rehearsals and other tasks of a routine nature. Still, it was a step forward. However, when Szell moved to lead the Cleveland Orchestra, he offered Smith a job as his assistant. By that time, Smith had a family and "the salary was too low to let me meet my obligations." Smith moved on to direct orchestras in Westchester, Portland, Phoenix and San Antonio before coming here, a 17-year stint in those other communities.
Louisville has taken to Smith, whose talents include entertaining and enlightening pre-concert previews. He values his Rotary membership and is one of the Orchestra's most popular and successful salesmen.
In private life, his Buddhist commitment has led him to membership in "Soka Gakkai International, An Organization devoted to World Peace through individual happiness." Smith notes, "I faithfully recite my mantra daily, taking an hour each day to rejoice in the wonderful Buddhist Law of Cause and Effect." Smith is also very interested in music as therapy.
At 54, Smith may be just entering his prime. You will note quite a few great conductors hit their peak in their mid-60s and some, like Toscanini, have had remarkable longevity.
Smith's concentration and intensity are tempered by a genuine thoughtfulness. "Please" and "thank you" are frequent words during a rehearsal. And when we met as his guest for breakfast, he interrupted my order to the waiter to say, "You forgot to order orange juice; why don't you have some?"