Mr. Mullins' Mighty Minstrel Ministry
By Paul Turner
To the rather impressive and ever growing list of Christian stars that have fallen into Louisville's backyard recently, add one that has sprouted from nearby soil.
Richmond, Indiana, is roots for Rich Mullins, and he refers to it occasionally. And when he does it is in affectionate terms -- whether relating to his farming experiences afforded him by his father or his own musical cultivation as he grew up.
Recently Valley View Baptist Church and New Covenant Productions gave us a taste of the blends of Rich & Co. Besides his material that Rich has recorded very successfully on his own for Reunion Records, you would recognize many that have blossomed for other artists: "If All I Know Is Love" by Louisville's Cynthia Clawson, "O Come All Ye Faithful" by Debby Boone for record and national TV, "Sing Your Praise to the Lord," "Doubly Good," and "Love of Another Kind" for Amy Grant, as well as "Always Here With Me" for Tony Melendez. Not a bad crop!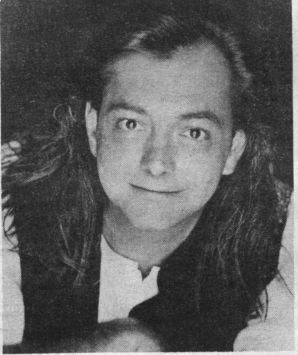 Rich Mullins
The best way to have you enjoy the flavor of the very entertaining evening is to have you picture seven traveling minstrels in true Renaissance form in front of a stage laden with both very traditional and contemporary instruments and equipment.
Next, let's dig through the prop boxes together and check out the instruments used for the show (which Bob, the stage manager, and I actually did after the show, to the enthusiastic assistance of a few onlookers -- including band members!) First a kalimba, an anklang, a tongue drum, a recorder, and a canvas picture frame (Jeff, you play if well!) Here's an Indian shin drum (tribe unknown) and a mandolin -- I recognize those -- about 30 various drums, including congas and bongos.
In this other box is a bamboo rain stick, four cups (yes, cups), a cabash, shakers, and claves. Please note that Rich's trips to Thailand and Guatemala have influenced his music and added to his instrument collection, and it's hard to list instruments you can't name!
All these instruments -- and none of them played themselves! I've got to find some instruments these guys and gals can't play just so I feel better -- 'cause it seems like between them they play just about anything.
I haven't seen so many instruments on one stage and so many non-traditional ones since the Ozark Mountain Daredevils, or so much music depth and diversity since the Nitty Gritty Dirt Band. (And that's 10 years or more.)
Prior to Rich's featured set Jeff Jack and Avenue G both warmed up the evening with their own brands of folk-rock.
Want to run sound for a potential engineering nightmare? Well, Doug Johnson doesn't seem to have any problem with it. But then if you got to practice up by running sound for De Garmo & Key you'd be able to do it, too. Thanks, Doug, for a sharp and well balanced sound in everything from the delicate hammer dulcimer solo intros to the power of the seven-member drum corps that ROCKED.
From the moment Rich stepped up to the microphone (barefoot) for his set, he began building a strong rapport with the audience which was to grow stronger throughout the night.
With his opener "Ready for the Storm," which followed l,300 pairs of hands doing rain sounds which sounded so much like rain that some of us actually felt a drop or two, the band headed into "Where You Are" -- his latest chart topper and a serious crowd pleaser -- one of many tunes Rich has penned with and Old Testament flair.
The many changes of instruments never meant "dead air" during the performance. Jumping right into "I Will Sing" with its a cappella intro and "Hope to Carry On," he went directly into "Alrightokuhhuhamen," another big hit for Rich. That tune, whose title is a.k.a. "All right o.k. uh huh Amen!," was a great sing-along, but, as the title suggests, its lyrics really move fast! Many were lost in the dust. It also shows once again that Rich doesn't always conform -- actually, from where I stand, he rarely conforms -- which makes for fresh music and entertaining shows!
"Screen Door," also a big hit on a couple of charts, was a personal favorite of mine. Imagine hot four-part harmony accompanied by four cups (as percussion). I know you can't. I can't either and I was there. It was hot! Well, as Rich's dad told him when things were tough when he was growin' up, "You've got to make do with what you have." (Yeah, Dad, but cups . . .?)
As the show's pace continued we got a sampling of both internationally flavored music and some Divinely influenced sharing of Rich's personal life and the meaning of it -- and purpose for it.
Jimmy A, formerly of Vector and still associated with Charlie Peacock, took the spotlight briefly for a heavily jazz fused "Touch of Love" instrumental and a song he wrote for his wife of 14 years (good to know some musicians can still make that happen) "If I Give In." We'll be hearing more from him I'm sure.
Rich returned with "While the Nations Rage," a song dedicated to the efforts of Operation Rescue, which featured Beaker on lap dulcimer. Unlike the other musicians who were basically picked for this tour, Beaker -- aide-de-camp to Rich and a fellow friar in the Kid Brothers of St. Frank -- is a constant with Rich even when "the group" becomes just the two of them.
Rich continued with "Boy Like Me / Man Like You" (another former No. 1) and began to wind things down through "If I Stand," which is his personal favorite hit that he did just for us due to a special request.
Rich's "Awesome God," which has become somewhat of a standard as a congregational church sing-along, was a segue into the musical prayer "I See You" and "Step By Step." He finished with strains of "A Mighty Fortress."
When the show's over -- it's not over. While other artists of his caliber hit the door before their last chord hits the back wall, Rich and the other players stayed to talk and sign autographs. Real Time for Real People makes a Real Difference. That's a Real Star.
Rich, keep planting songs and harvesting people.