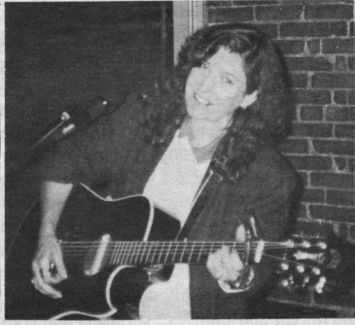 Tricia Walker
Tricia Walker at the Rud
By Wally Stewart
A handful of fans of good music found plenty of it and a lot of fun at The Rudyard Kipling on April 27 when Tricia Walker made her first concert visit to Louisville.
I had been greatly looking forward to this show since I first heard Tricia and her acoustic group The Mudcats (not to be confused with a local group of similar name). When this gorgeous chanteuse plays Music City she usually has bassman Don Potts and sax/harmonica player Bill Sinclair with her but came solo this time to see what the "scene" was in Derby City. Walker thoroughly entertained, playing two lengthy sets as if the house was packed, displaying good-natured humor and a soulful sound shaped by a childhood spent in Jackson, Mississippi.
Tricia's compositions have been recorded by several national artists and she accompanied her velvet voice with a Guild D-40 guitar through an eclectic twenty-four-song mix of originals and covers. Tunes from her trio's self-titled tape release were heard along with others by Pam Tillis, Ricki Lee Jones, and gospel and blues standards. I laughed with the humor of "The One That Got Away" and "Intensive Care"; boogied on the beat of "Sticky Mud" and "Ride This Train"; and quietly drank the poignancy of "Down In Capetown" and "Looking For Suzanne."
I visualized sweethearts nudging each other upon hearing "I don't need a nurse and I don't need a doctor, all I need is a little Intensive Care," and believed "Mud's" message of Southern living magically getting in your blood. The universal struggle for freedom was portrayed in "Capetown" while art's ability to express life's experiences and common feelings came most powerfully during "Suzanne." This was a fact-based account of a search leading to the reunion of a father and daughter separated for twenty years. It almost guarantees tears with "Where there are pieces of our lives left unattended, then the scars from broken hearts so unmended until the feelings we've forgotten overwhelm us like a flood. That's how it always is with flesh and blood."
Walker wasn't discouraged by the small attendance, remembering that it was Derby Festival week. After her nearly three-hour show the classy brunette spoke of loving the Rudyard and wanting to come back on a summer weekend with her Mudcats.
Her audience would like that.