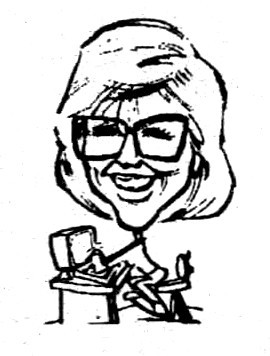 Newsical Notes
Just found out that prolific songwriter Earl Meyers will be gracing the songwriter stage at the Bluebird Cafe in Nashville on November 8. This will be his first appearance — other than in the audience — at the famous Music City listening room. Congratulations and good luck, Earl.
Charlie Walls has a few more copies of his current four-song cassette album for sale. The Bombino Years, on the Music Man label, contains "four great songs" from that era at UK and features "Pitino's bombinos" performed by Doc & Smitty and "Thanks," a rendition of a Charlie Walls song by the John & Allen. Ron Orwick wrote the other three songs.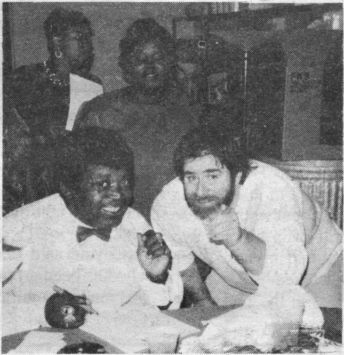 'Look at the birdie,' Charlie Walls says to Percy Sledge.
See Charlie for your copy. Act now — supplies may be limited.
Also, check out the photograph in this newsletter of Charlie with Percy Sledge. lt was snapped by one of Sledge's people a while back when the soul singer performed at the Golden Horseshoe in Lebanon, Ky; and Charlie ran the sound. Unless you're very young, you will recall that the singer is best known for his 1966 No. 1 hit "When a Man Loves a Woman."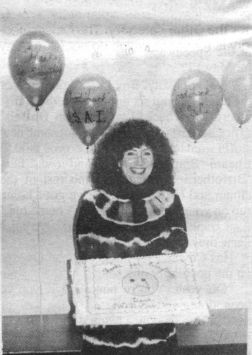 Diana Black
Wally Stewart had a bit of a surprise recently when two, that's two, of his original songs were performed during Sunday morning services on May 17 at Grace Presbyterian Church in Clarksville, Indiana.
Now Wally knew that one of his songs would be performed, so he was there to give a listen. Surprise! Levitia McLemore and Jo Ann Trusner doubled his pleasure when they added the second one. The grateful Wally, in keeping with his reputation as a thoughtful gentleman, took the two ladies to dinner, after the trio had posed for a photograph to mark the occasion. Look for the photograph of Wally and the ladies inside this issue.
Atta boy, Wally, you're doing what Prez Paul always preaches. Pitch them songs locally!
LASC and NSAI friends of Diana Black threw together a farewell party for Diana to reluctantly say goodbye before she and husband Greg moved to Florida.
The party was held on April 27 at Deer Park Baptist Church, the regular site of the local NSAI workshop.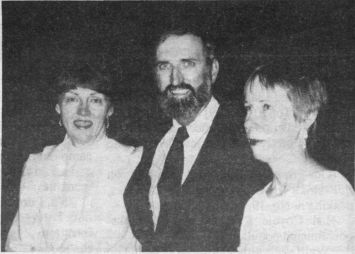 L to R, Levitia McLemore, Wally Stewart and Jo Ann Trusner. PHOTO BY BOB GORDON
Many thanks to everyone involved in the last-minute arrangements.
We miss you, Diana.