JUNE l. a month of much music and many notable visits from big names in the music industry 2. a period when Kiss' feline ex-drummer and Andrew Lloyd Wcbber's cast of tabbies conspire to give our town a throat-clenching hairball 3. the name of Ward Cleaver's wife.
Allman Brothers w/Blues Traveler (durabilis solo) a double bill of long, mind-tripping jams, with the flavor of Seventies rock. Allman Brothers are as beautifully bluesy as ever, Blues Traveler features a mean harmonica player and a Deadhead-like tour scene. Wednesday, June 24 at Louisville Gardens. See reefer
Association, The (confection excessa) this group peaked in the Sixties with a string of hit ballads featuring lush vocal harmonies, such as "Windy," "Cherish" and "Along Comes Mary" Friday, May 29 at Louisville Gardens. See nostalgia
Beanland (Garcia gracias) Alabama band plays originals that have the spirit of Grateful Dead covers. Saturday, June 27 at Uncle Pleasant's.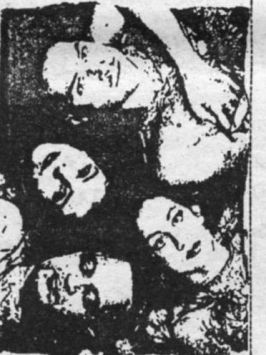 Big Hat
Big Hat (peculia pleasantam) a Chicago quartet whose music truly merits the adjective "undescribable," featuring violin, percussion, vocals and samp1es. Thursday, June 4 at Tewligan's Tavern.
Bonedaddys, The (ethnicus mixis) an octet from Los Angeles built on exotic and infectious rhythms, with an album on Chameleon Records revealingly titled "Wor1dbeatniks." Blending sounds and grooves from around the world, the Bonedaddys believe in the healing power of dancing. Thursday, July 2 at Jim Porter's Good Time Emporium.
Brown, Sawyer (state fairus fareus) a pop country band with a strong sense of rock and country blues, a stable of the road circuit that's not to everyone's taste. Friday, June 12 at the Executive Inn in Owensboro.
Cats (upscalus tapiocam) this Andrew Lloyd Webber musical features characters of the four-legged, furry variety and spotlights several memorable songs including "Memory." Tickets: 584-7777. June 9 through 14 at the Kentucky Center for the Arts. See middlebrow
Chestnutt, Mark (garthus usurpus) country through and through and high up on the industry ladder. Saturday, May 30 at the Executive Inn in Owensboro.
Criss, Peter (tappus spinali) ex-drummer from schlock rockers Kiss, Criss was best known for his cat makeup and his melodramatic crooning of the archetypical rock ballad "Beth."Wednesday, June 3 at Phoenix Hill Tavern.
Dillon Fence (facial scrubbedelia) melodic quartet on Mammoth Records that is worth the effort. Saturday, May 30 at Tewligan's Tavern. See alternative
Ferguson, Maynard (LG&E competitus) jazz trumpet legend with the energy and attitude of a rock musician. Thursday, May 28 at Jim Porter's Good Time Emporium. See longevity
Greenwood, Lee (scoundrelum refugeus) gently balding down-home singer who came to prominence with a batch of patriotic tunes including "God Bless the U.S.A." Saturday, June 27 at the Executive Inn in Owensboro.
Guy, Buddy (indigo authenticus) one of the hottest blues rock guitar players ever, Guy is a top-notch showman from Chicago. Monday, June 15 at Flaherty's Food-Fun-Spirits. See guitar gods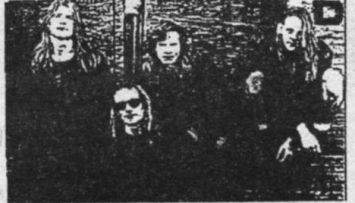 The Hammerheads
Hammerheads, The (contractus limbo) talented quartet hai1ing from the stretch of I-65 from Nashville to Bloomington, performing funk and rock originals and well-chosen covers. Guitarist Greg Foresman is reason enough to catch this label-ready band. Wednesday, June 10 at Phoenix Hill Tavern.
Hartford, John (pilotus jovialiti) bowler and spats-wearing banjoist and fiddler dances while he plays folk songs about the river. Noted for being the composer of "Gentle on My Mind." Thursday, June ll at Jim Porter's Good Time Emporium. See steamboat
Jazz Guitar Clinic and Concert (opportunitus grandis) two-day hands on clinic taught by guitarists Jim Hall, Gene Benoncini, Jimmy Raney and Jeff Shennan. Enrollment is limited, call 452-8182. The assembled talent reads like a week at NYC's Sweet Basil jazz club. Clinic: Monday, June 15 and Tuesday, June 16 from 10 a.m. to 5 p.m. Concert: Monday, June 15 at Bellarmine College. See jazz legends
B. B. King
King, B.B. (axus tremendous) master blues guitar player and acknowledged King of the Blues, celebrated for taking a handful of notes and wringing them for all they are worth. Thursday, June 18 at Jim Porter's Good Time Emporium. See Mississippi delta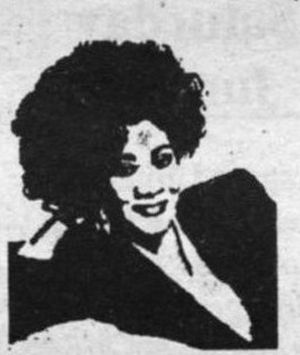 Patti LaBelle
LaBelle, Patti (lungus leatherium) powerful soul and R&B singer who knocked them dead a few months back. Wednesday, June 10 at Memorial Auditorium.
Live music (aural en persona) a seductive state of being, ranging from euphoric to torturous, induced by the usually melodic and/or rhythmic performance of sounds and syllables. See Louisville
Luvisi, Lee (ivorus tickliti) talented and entertaining pianist joins the Louisville Orchestra for Masterworks performances centering on the works of Beethoven, Walton and Respighi. Friday, May 29 and Saturday, May 30 at the Kentucky Center for the Arts.
Mekons, The (skafflis raucus) legendary pop group from England plays English pub music that gains praise from people like Robert Plant. Saturday, June 13 at Uncle Pleasant's.
Mellencamp, John (Springsteenus Dylanus) everyone's favorite Midwestern rocker with new sound featuring guitarist and Louisville native David Grissom. Saturday, June 27 at Freedom Hall. See earnest
Molly Hatchet (dinosaurum dixie) the country rockers from Florida with the heaviest guitar sound of the Southern rock wave, best known for hit "Flirtin' with Disaster." Sunday, June 7 at Phoenix Hill Tavern.
Nighthawks, The (bluesum bluesum) a somewhat legendary Chicago-style blues band that traces its roots back to 1972. The lauded blues group Rod Piazza and the Mighty Flyers open the show, making this offering irresistible. Tuesday, June 23 at Phoenix Hill Tavern.
Redbone, Leon (appealus finitea) decidedly odd performer with low-key, back-of-the-jaw vocal style and an offbeat taste for songs of the 1920s. Best known for his recent appearances in beer commercials. Sunday, June 28 at Phoenix Hill Tavern. See idiosyncratic
Rhody, Alan (scribus clef) a fine performer and even better songwriter from Nashville, gives folk music a good name. Saturday, May 30 at the Rudyard Kipling. See Dylan
Roarchestra! (beasti soothicus) the Louisville Orchestra's outdoor summer season of six consecutive Saturday night performances at the Louisville Zoo. The flavorful jazz singer Banu Gibson and her band, the New Orleans Hot Jazz, kick off the series. Skitch Henderson returns to conduct the second show, "A Night at the Movies," featuring songs from "Gone with the Wind," "East of Eden," "Breakfast at Tiffany's," and "Beauty and the Beast."
Banu Gibson, Saturday, June 20; "A Night at the Movies," Saturday, June 27.
Smithereens, The (Salieri syndromidum) pop band with a tragic/ fortunate dependency on musical hooks, featuring the nearly great guitar work of Jim Babjak. Hits include "Blues Before and After," "Blood and Roses" and "Too Much Passion." Thursday, May 28 at Phoenix Hill Tavern.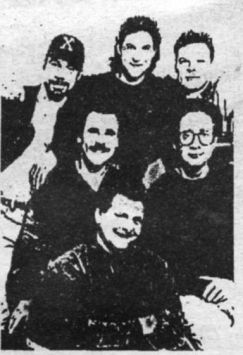 Spyro Gyra
Spyro Gyra (licks prepondera) glossy, chops-oriented jazz-rock fusion band lead by tenor saxophonist J ay Beckenstein has a jewel in marimba player Dave Samuels. Sunday, June 7 at Flaherty's Food-Fun-Spirits.
Squeeze (poppy perfectum) a band of huge talent from England, with the songwriting team of Difford-Tilbrook cranking out light, catchy pop tunes along the lines of Lennon-McCartney. This is a happy chance to see them up close, personal and all acoustic.Wednesday, July 1 at Phoenix Hill Tavern. See unplugged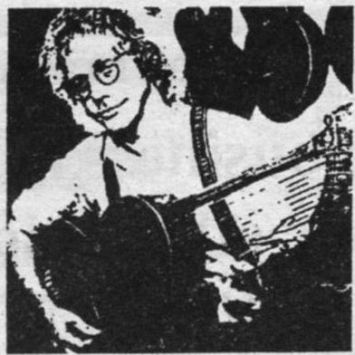 Warren Zevon
Zevon, Warren (werewolvium Brittania) wickedly wry songwriter mixes literate lyrics with elegant, aching music. His last show here a few months back was priceless. He's performing solo this time out. Tuesday, June 30 at Hurricane O'Malley's. See cynical