February Showcase
By Wally Stewart
After a month's absence, the LASC Songwriter Showcase returned home to The Rudyard Kipling on February 1 and found the house packed with company ready to have a good time.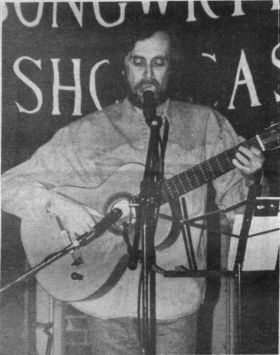 Misha Feigen. Photo by Michael Eggenspiller
Local NSAI Co-coordinator Earl Meyers opened the show with his "Riding on a Hayride," the winner of 1991's LASC song contest in the children's category. Daughters Jennifer and Stephanie provided vocal help and appropriate background talk as they bounced along on a trip that evoked fun-filled memories. This was the girls' first spotlight exposure and they showed plenty of potential.
The backups returned to sit with wife/mother Geri Meyers, and Earl lived up to his words of "I try to have something for everybody." Bluegrass, country and rock were offered, using themes portraying varied results of male-female relationships. One more children's tune expressed the emotions of a man reflecting on his child's needs and aging. "Hero In My Little Girl's Eyes" spoke of calming a daughter's anxiety then realizing "she's growing so fast, her little-girl fears won't last."
The evening's second act found Co-op board member Tim Lynch bringing his guitar, tracks and tremendously popular novelty songs to delight the crowd. Old favorites were joined by more recent works such as "Anything But Ruff" and "The Helium Man." Lynch made tracks for "Ruff" and "Helium" in his basement and the compositions left many sides splitting with laughter. "Ruff" used blues to picture a dog who has a feather bed, stereo, TV, pool, etc. and who goes "cattin' about at night." At one point the track provided "four-bark harmony" and lots of extra "howlin'" was heard around the house (including me). "Helium" showed a young boy falling asleep by a clown's leaking helium tank and growing into "THM." This one's track had very high-pitched voices singing on the chorus, with the crowd again acting as a temporary choir, and Lynch's talent brought him a great ovation as intermission arrived. (Hopefully, someone who can further expose this creativity will hear the songs and work with Tim.)
After a lengthy break (due to the fun taking place) we were treated to the first LASC performance of Misha Feigin, who is originally from the former Soviet Union but now lives in the bluegrass state. His set was a mixture of mostly folk songs from, and in the language of, his native culture and others done in English. One of the former was "Only One Time," a gorgeous, romantic effort, delivered with such passion that not knowing the language didn't detract from its appeal. An example of how life changes came from "Sam the Cowboy," which was written for a play in Moscow 14 years ago. At the time, Misha thought Kentucky would be a good place to live but was not thinking he would do so.
Quiet ruled as Feigin sang and spoke of his travels across this country and of being an artist across the ocean. The week-old "Song Without Name" closed his stage time with eloquence: "Life just goes on when you keep your broken heart, it's just a place where you happen to be."
Newly elected Co-op board member Larry Standiford put on his guitar to finish the first round and called for more applause for Feigin, then shared a group of originals and Travis Tritt's "Anymore." John Mellencamp's influence was felt on "Remember Who We Are" and "Satisfied Man," and some interesting thoughts were heard in "Relationships": Life is a shuffle, like a deck of cards. You can shuffle, be who you are, maybe a Joker, a King or a Queen. Come on baby, don't shuffle me around."
Larry usually works at showcases, and tonight was no exception. Besides performing, he helped with sound, stage setting, and was sideman for Lynch. He received a lot of positive reactions for his part of the show. As is customary, each act did more songs after intermission and most people had the good time they came after, as many stayed through the later hours.
The next opportunity to join the fun will be at the same place on April 4 and will feature the annual "Publishers Night." Nashville publishers will be there to hear Co-op songs ... and you're invited.