No Looking Back (Alligator)
Clarence "Gatemouth" Brown
By Keith S. Clements
How do you describe a multi-instrumental virtuoso who can play guitar, violin, harmonica, piano, mandolin, viola and drums, plus perform such a diversity of American roots music that includes blues, jazz, bluegrass, Texas swing and zydeco? He is Clarence "Gatemouth" Brown and he just made a rare appearance in Louisville on Wednesday, February 12, performing a fantastic non-stop, two-hour set at Jim Porter's Good Time Emporium.
"Gate" is currently on a whirlwind tour across the country promoting his new release on Alligator titled No Looking Back. Louisville was a stop-over between West Palm Beach and Minneapolis.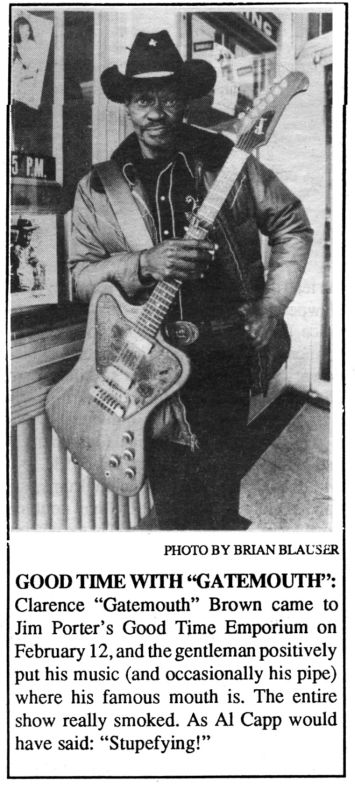 This disk unites Gatemouth with a powerful horn section recorded in the Ultrasonic Studios in New Orleans. The eleven cuts include five new originals and six covers.
The disk starts off with a solid blues called "Better Off With the Blues," backed by his well-orchestrated horn section. "Digging New Ground" is an up-tempo, jazzy instrumental which demonstrates Gate's quick dexterity on guitar. The horns again play a big role in the piece with lots of solos. Gate makes a statement against drugs and what it is doing to our society with a song called "Dope" that has a nice organ backup.
My favorite song is "My Own Prison," which has a pensive lyric: "I build my own prison, but I forgot to make a key, and there is nobody in this cell but me." This piece features some nice delicate guitar work with lots of those cutesy bended notes. "Stop Time" is a funky groove instrumental with Gate playing fiddle, which is actually a viola. "C-Jam Clues" is a frantic Ellington instrumental with plenty of individual solos and riffs.
I love his lyric on "Straighten Up" where he sings, "Now if you want to talk to your woman, you better talk to her face to face, 'cause talking to her on her answering machine, will put you way out in space." This is a nice laid-back blues with a strong "T-Bone" Walker influence plus some smooth harmonizing saxophones. "The Peeper" is a combination jazz and swing instrumental with plenty of Gate's picking and fiddling. An intimidating barking dog opens a novelty song called "Alligator Eating Dog" that has a distinctive Louisiana backbeat and a little rapping on the side. Gate is joined by folk rocker Michelle Shocked for a laid-back nostalgic vocal duet on "I Will Be Your Friend." The piece has a country western sound and features his fiddle. The CD finally closes out with a lightning-fast boogie called "We're Outta Here," with those ever-present horns synchronized beautifully with his guitar licks.
"Gatemouth" Brown is a national treasure who can blend so many forms of American music together to make it uniquely his own. Even though his instrumental skills are usually featured, I enjoy his behind-the-beat deep, smokey vocals that further add to his distinctive sound.
One night Gate jumped up on stage at the Golden Peacock nightclub in Houston in 1947 to stand in for T-Bone Walker. This got the attention of promoter Don Robey, who became his manager and recorded Gate's early classics for the Duke and Peacock labels. His career has taken him all over the world, bringing his music to the people and making him a spokesperson for American music. You will be able to hear Gatemouth perform again at the 1992 Chicago Blues Festival, Saturday, June 6, on the main stage.