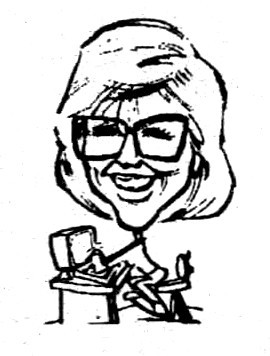 Newsical Notes
It has been a pleasure to watch LASC friend Kix Brooks as he and Ronnie Dunn, who make up the hot country duo Brooks & Dunn, climb up the charts with three songs from their Brand New Man album. Both the title cut and "My Next Broken Heart," which the two wrote, have done very, very well. And Dunn's original, "Neon Moon," landed on the charts about a month ago.
Co-op members may recall that Kix conducted an excellent one-day seminar and headlined a showcase for LASC back in June of '87. At that time his "Modern Day Romance" had been a No. 1 country hit (in '85) for Nitty Gritty Dirt Band. But this time around, with the help of Dunn, Kix plays the role of artist as well as songwriter.
Congratulations, Kix!
Honorary LASC member Debbie Hupp's "Straight Tequila Night" (c/w K. Robbins) has apparently accomplished the objective of being a comeback vehicle for Swaingin' John Anderson. Debbie, who shares co-writing honors on such hit songs as Grammy winner "You Decorated My Life" and "Don't Call Him a Cowboy Until You've Seen Him Ride," has been experiencing a bit of a dry spell in recent years, so maybe "Straight Tequila Night" can be her comeback song also. Billboard's February 1 issue had it at No. 19, and a week later I saw Debbie at Karen Le Van's party (more about that in a minute), and she told me that it had climbed to about No. 7 or 8.
Congratulations to you, too, Debbie! And welcome back, John Anderson.
Honorary LASC member Alan Rhody was in Louisville on Feb. 15 for a performance at The Rud. Although I wasn't able to attend, Wally Stewart reported that Alan was in excellent form and played to a full house.
Even as you read this, member Doc Dockery will be in the midst of a European tour. Although not a rookie (he has performed in Europe on several previous occasions), he was eagerly anticipating this tour. Besides playing some music, Doc planned to get some much-needed R&R and do the tourist thing.
Fill us in when you get back, Doc.
Karen Le Van, LASC's resident Perle Mesta, has finally been able to make a move that she has been anticipating for quite a few years. Now that her two children are pretty nearly self-sufficient, Karen has sold her home in Louisville and has bought a condo in Nashville. As you read this she will already have moved to Music City and will no doubt be working in some lucrative job in the music business.
Karen's Christmas parties have become a favorite for songwriters and musicians, and they are famous (or infamous) for the hour at which "The Party's Over."
Preparations for selling her house delayed the Christmas '91 party and it turned into "Le Van's Last Blast," a combination holiday and farewell affair on February 8.
According to Tim "Helium Man" Lynch, who didn't miss a thing, a good time was had by all. Sure hope he writes the event up as a song, in his own clever style, and brings it for "critique" some meeting night.
Our best wishes go with Karen as she pursues her long-awaited dream. Here's hoping she catches that "Elusive Butterfly."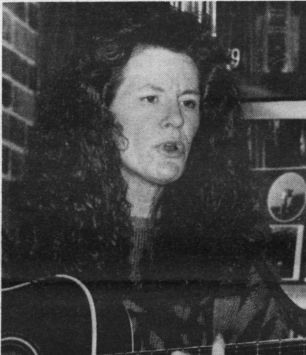 Marie Augustine at Le Van's Last Blast. Photo by Jean Metcalfe
Sorry Karen had to miss the Feb. 17 membership meeting. A little tribute and the presentation of a red rose were planned. But condo-closing details prevailed.
Music City beckoned to three of our other fine songwriters that same weekend. Diana Black had gone down a day or so before Gardner Barger and Earl Meyers were there on Feb. 15-16 to keep a few appointments with friends in the business. (Gardner just might have lined up a co-writing partnership with a Nashville songwriter-publisher who has a No. 1 hit song to her credit.)
While there, the two gents looked up Sally Mudd and Lisa Palas. Lisa is a songwriter and publisher who has attended a couple of LASC "Hit Makers" events, and Sally is a Co-oper who moved south about a year ago. We understand that Sally recently received her first check as a staff writer for Big Dog Music.
Gardner and Earl stopped by to see Maggie Cavender while they were in town, and also spent some time at NSAI headquarters. On both Saturday and Sunday nights they ventured to the Bluebird Cafe. Earl told me they saw several good songwriters, including Radney Foster who was the featured guest on Sunday.
Also on Sunday, Earl and Gardner ran into Karen Le Van, who had met up with Co-oper Bev Sumner, who had moved from Louisville to the D.C. area and then to Nashville. Karen and Bev have more than just songwriting in common. Both are job hunting ... and perhaps pitching a song or two.
Karen invites LASCers to come down for a visit. She says her place is a perfect place for partying.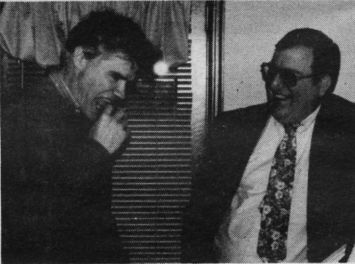 Earl Meyers and Gardner Barger help Karen reduce what she has to take to Nashville. Photo by Jean Metcalfe
A recent note from Brenda Bowlin related that "school is busy. Now business is busy, too! Not much time for fun. Miss seeing you all. Have fun."
We miss you, too, Brenda.
If Prez Paul Moffett seems to be in a bit of a hurry to leave after meetings on first and third Mondays these days, it's because he's been serving on the judging panel for WQMF's battle of the bands at Caddy's. For "a 126-year-old man who hates rock 'n' roll" (that's a somewhat inside joke, and not quite accurate on either count), he appears to be "sleeping with the enemy."
Good News & Bad News: Larry Standiford will be able to attend meetings (both membership and board) more these days because he's not on the road with his construction job. That's the good news. The bad news is that the reason he's not on the road is because he no longer has that job.
If anyone out there needs a good, hard-working construction worker, give Larry a call.
The departure of Robin Brown from the band Robin Brown and Wilder Days has paved the way for LASCer Cheryl Lynn to front her own band. Don't know if it was her first appearance with Wilder Days since leaving Robert Morris's Lonely Roads Band, but I enjoyed a couple of Wilder Days' songs as I passed through the Good Time Room at Jim Porter's after the Patty Loveless concert on February 18.
We wish both Wilder Days and Lonely Roads continued success. And while we're at it, we also congratulate the lovely Ms. Loveless on her best female vocalist nomination by one of the numerous groups that have awards shows. Patty is from Pikeville, Ky., and grew up in the Fairdale area. She's also a pretty fair songwriter. Good luck, Patty.
Sammy Reid and his lovely wife Lois traveled to John Mellencamp country on February 18 for a preview of the Seymour, Ind., rocker's movie, "Falling From Grace." The Reids don't usually travel that far just to attend a movie, but this was no ordinary movie.
(Regular readers of this column can stop reading right here. Others may want to stick with us.)
The reason "Grace" was no ordinary movie is that Sammy's and Charlie Walls' song "The Proof's Here in My Hand" had a "cameo" appearance in it. Seems the Reid/Walls original was playing (for about 20 seconds or so) on the jukebox when a fight broke out (in the movie, not in the theater). Co-op member Larry Rollins handles the vocals on "Proof" as well as those on the title song. (See another related article elsewhere in this issue of Louisville Music News.)
And speaking of Charlie Walls, as we were earlier, thought you'd like to know that on Feb. 20 he ran the sound for Percy Sledge who performed at the Golden Horseshoe in Lebanon, Ky., where Charlie has a regular gig. Photos in April ... if Sandra Walls followed her husband's snapshot-taking instructions.
Congratulations, guys!
Congratulations are also extended to member Eric Johnson and his wife Carol on the birth of a daughter on January 17. In a letter to Prez Paul, Eric says, "Haven't had much time to write lately, but I hope things settle down soon. Real soon. Real, real soon."
Besides getting the new baby settled in, Eric, who lives in Lithonia, Ga., says that "Jan & Cowboys (a group he produces) opened for Kansas down here at Centerstage on New Year's Eve舒 really had a good audience response. Ross (McCort, his writing partner,) has been busy on wrapping up production of a couple of projects. One of the bands, The Tombstones, is on Relativity Records and should have something released in the next couple of months.
"I always enjoy getting the newsletter and keeping up with y'all."
Most of our LASC members will recall that Eric and Ross picked up quite a few wins in our "Songwriting Competition '91."
A post card came a few days ago from George Cochran, a member from Richmond, Ky., relating that he will be unable to come to Louisville for the special April Songwriter Showcase as he had originally planned, but that he hopes to have some songs ready for "Hit Makers '92."
Thanks for your nice compliments about our newspaper, George. We look forward to seeing you, and hearing your songs, in November. You're an excellent songwriter. I especially like "I've Got Denim in My Genes."