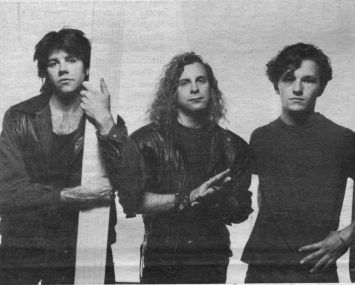 L to r, John Krauss, Chaz ROught, and Billy Bartley. Photo by Chris Ehren
Speaking in Tongues
By Paul Moffett
Words pour off Chaz Rough's tongue so rapidly that he threatens to lapse into glossolalia at any moment.
Which, to save you from having to look it up, means "speaking in tongues."
Is that accidental coherence or is there a more solid method in Rough's musical madness? Yes.
Rough was not familiar with the term 'glossolalia but that was about the only base he had not covered in the production and marketing of Speaking in Tongues, the group's debut EP. A six-song project, it's duplicated in the "radio" format _meaning that the same songs are on both sides.
As an ad agency person and graphics designer, Rough started the project with a clear marketing angle, particularly +emphasizing the utilization of the best people available to handle each part of it, including local filmmaker Ron Schildknect, artist Pip Pullen and photographer John Lair,
The engineer for the SIT tape was former Synthetics drummer Todd Smith. Smith was also a member of the group Domani, which had cut a record for MCA before folding up due to "artistic differences." That experience helped Smith know what kind of sound the labels wanted. He then put it to good use by guiding Speaking in Tongues to the sound they wanted. Rough notes that he has gotten a lot of very positive feedback about the sound quality of the tape.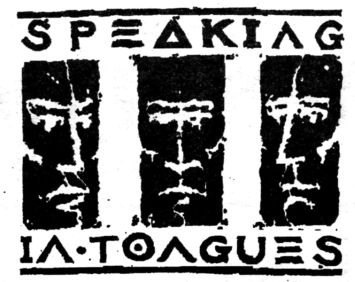 Speaking in Tongues was put together in late 1990. Besides Rough, who handles bass and vocals, the group's members are John Krauss, guitar and vocals, and Billy Bartley, drums and vocals. The music is rock and roll, with influences from Sting to Queen to Hendrix, with a little bit of Thelonius Monk tossed in for lagniappe.
Rough was with the Synthetics, a band that was did only original material, for eight years. The group got national video exposure on MTV's "120 Minutes" and "Basement Tapes," giving Rough the experience of having made a connection to a national video network.
Krauss waits tables at Hasenours Restaurant and also works part-time for UPS. Bartley is a student at U of L majoring in art and architecture. Krauss and Bartley were with the local band Shoot the Moon, which also featured the vocals of Chris Bartley, now with the Rockin' Lobsters. Rough is a graphics designer employed by the Doe-Anderson Advertising agency. His professional skill shows up in the graphics package that he has put together for SIT.
The group is doing only occasional local gigs, choosing instead to focus on shopping the tape to major labels. They are going to open for Henry Lee Summer at a Derby gig put together by Hooter's.
Ear X-tacy is the only store where the tape is for sale. Ear X-tacy advertises a lot and Rough wanted to take advantage of that. A point-of-sale poster is on the counter and does not, as Rough took pains to point out, scream "local tape." Indeed, the quality of the graphics work says just the opposite. Tapes are also selling by word of mouth.
Rough and artist Pullen founded Snail & Rocket Productions as the record company for the project. A video project is also in the planning stages. Rough says that since he is doing lots of the organizing and leg work, the video will come about a little bit later. Raising the necedssary capital is also a bit problematic.
Asked to describe the music, Rough offered up an expression he and Todd Smith used:"Yupetapop."
"Speaking in tongues," he laughed.
"I believe it's going to garner a lot of attention. I think it's that good."
For more information about Speaking in Tongues, call (502) 451-4920.