The Irish Just Got Luckier
If you're lucky enough to be Irish
Then you're lucky enough.
At least that's what I've heard. But even if your mother — or other ancestor — didn't come from Ireland, you're still in luck.
The three Irish bands in town have joined forces to present 'The Irish Connection, Traditional Music of Ireland' in the Bomhard Theater at the Kentucky Center for the Arts on Sunday, March 15, at 3:00 p.m.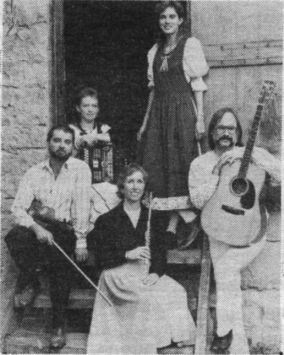 Tight Squeeze
'It's a self-produced, self-financed concert and it was an opportunity for all three [groups] of us to work together, since we had never really done that,' Henry Austin told me.
Austin is a member of the group Tight Squeeze, one of three bands that comprise 'The Irish Connection.' The other two participating groups are Drowsy Maggie and Ten Penny Bit, who play the more traditional music, Austin said. Tight Squeeze also plays traditional music, 'but with mutations. It's mutated music,' he chuckled.
Tight Squeeze has a resident dancer who'll be doing a variety of dances, including Scottish dancing, Lancashire clog dancing and Irish step dancing.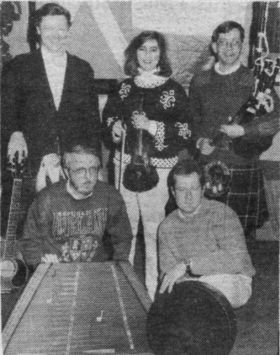 Drowsy Maggie
'I think Irish music is on an upswing here in this town,' Austin said with a touch of pride.
Other St. Patrick's Day activities include the Ancient Order of Hibernians (AOH) parade on Saturday, March 14, at 1:00 p.m. on Main Street, beginning at Brook Street and ending at Sixth.
The Hibernians promise that the procession, complete with marching bands, will be their largest ever, with a grand finale in front of the Kentucky Center for the Arts.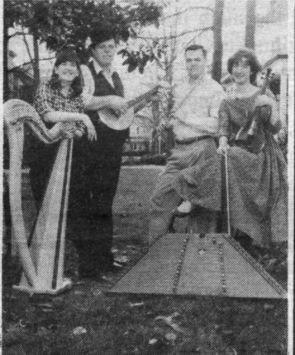 Ten Penny Bit
The parade will be celebrating the Kentucky Bicentennial and the Columbus Quincentennial, and will conclude with a 'Hooley' (party) on the Star of Louisville at the Fourth Street wharf.
Flaherty's Food-Fun-Spirits will once again be pitching their green-and-white-striped tent to accommodate the March 17 merrymakers 'under the big top,' where three bands will be providing the entertainment. Irish shows will be featured throughout the day in the main building and three bands are scheduled there for the evening party-goers at the popular establishment on Dupont Road.
•
Tickets for 'The Irish Connection' are $8 and can be obtained through the Kentucky Center for the Arts box office, (502) 5847777 or 1-800-283-7777.
For more information regarding the St. Patrick's Day parade, contact Paul Whitty at (502) 459-0717, or Ken McKiernan at (502) 459-1681.
To learn more about the holiday festivities at Flaherty's Food-Fun-Spirits, phone (502) 893-2563.