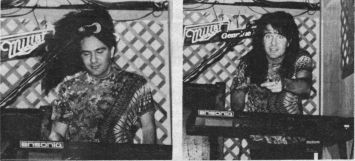 R.U.O.K? Is Jerry Roubieu asking for money? Are band battles hair-raising?. Photos by Jean Metclafe
WAMZ, WQMF Offer CASH to Winners of Band Battles
As we slide toward spring, band battles begin to crop up like crocuses. Currently, there are two to report on: a battle of the country bands at Jim Porter's, organized by WAMZ and a rock battle at Caddy's, put together by WQMF.
Jim Porter's and WAMZ have the Battle of the Country Bands, with the semi-finals scheduled for March 1 and the finals for March 8. The winning band will get $500. Six bands will be chosen for the semi-finals, with three finalists advancing. Admission will be $1, with proceeds going to St. Jude's.
Out at Club Caddy's, preliminaries will be held every Monday night through March 16, with three bands per night. The winner of each Monday-night event will receive $500 and advance to the semi-finals, to be held March 23 and 30. Admission is $3. As of press time, three bands had made it to the semi-finals: LMNOP, R.U.O.K? and the Rockin' Lobsters.
Semi-final winners will receive $750 and advance to the finals, which will be on April 6, with two bands performing for an hour and a half each. One of the final judges will be a representative from Warner Records.
In addition to a grand prize of $ 1,000, the winner will get a song recorded at Mom's and that song will get four weeks of airtime on the New Music Hour, hosted by Jim Harley, Tuesdays at midnight. The band will also play the WQMF stage at CityFair in June. The runner-up will get four hours of studio time at Mom's.
The band battle is presented by Mom's Musician's General Store, Miller Brewing and WQMF. Lew Newton of Guy Rhodes Entertainment is arranging for the bands.