Human Touch
Lucky Town
Bruce springsteen
By Bob Bahr
Bruce Springsteen fans who might have been worried that Springsteen would have difficulty remaining vital in the music world, fear not. Springsteen, whose latest work consists of two separate albums - "Human Touch" and "Lucky Town" - and who has not released anything since 1987's "Tunnel of Love," may yet falter. But he hasn't done it here.
"Human Touch," was written and recorded between 1989 and early 1991. After it was finished, Springsteen had another burst of creativity, so he stayed in the studio another two months and knocked out "Lucky Town."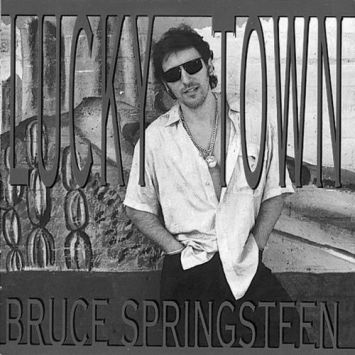 There is something for every Springsteen fan throughout both recordings. From the "Spirit in the Night"-like lilt of "Soul Driver" to the "Meeting Across the River"-reminiscent trumpet of "With Every Wish," the "Glory Days" answer vocals of "All or Nothin' At All" to the Nebraskaesque, distantly haunting howling of Springsteen singing behind himself, there is much to love. Pick your own favorite.
While the new songs clearly evoke musical moments from Springsteen's earlier work, that is only the half of it. Springsteen has again stepped up to the challenge of being a commentator on our times, a sort of modern-day Dylan. But Springsteen has the advantage of coming along on the heels of his heroes and, in the way that a child may learn to avoid their parents' mistakes, and avoids the excesses inherent in such a role. It's a daunting challenge, one that Dylan has certainly abdicated, but Springsteen is up to it.
Ever since he was on the covers of Time and Newsweek simultaneously in 1975, and especially during the last eight years, after 1984's Born in the U.S.A. made him a worldwide household name, Springsteen has straddled the precarious line of megastardom. And, one could argue, survived heartily. In fact, Springsteen has actually capitalized on some of the attendant absurdities of wealth by turning them into song matter.
On "57 Channels (And Nothin' On)," he describes in a distant, sedated monotone the perils of home entertainment and the ability to isolate afforded by television. Using cable television and satellite dishes as metaphors for a media-overloaded world where people can check out for days at a time, Springsteen drives the point home:
I bought a bourgeois house in the Hollywood hills
With a trunkload of hundred thousand dollar bills
Man came by to hook up my cable TV
We settled in for the night my baby and me
We switched 'round and 'round 'til half-past dawn
There was fifty-seven channels and nothin' on
Braced by an other-worldly keyboard that creates a trance-like state, the song works on two levels. On the surface, it's a wry, tongue-in-cheek sendup a la "Pink Cadillac." Underneath, though, is the uneasy feel of just how confining wealth can be and the dangers of hiding out in the basement. In the last verse, Springsteen mimics Elvis, the icon of isolation, and blows a hole in the tube.
"Human Touch" and "Lucky Town" are distinctly different. In a nutshell, on the former Springsteen maintains his whimsy about things outward - largely love and relationship, while on the second he again turns inward.
That's not to say "Human Touch" is inferior. It rocks hard and Springsteen plays with raucous abandon. But at the beginning of "Lucky Town," Springsteen, amazingly, takes the energy to new levels. On "Better Days," the opening song, he sounds as if he will explode with angst, declaring right away his new self-awareness:
Well my soul checked out missing as I sat listening
To the hours and minutes tickin' away
Yeah just sittin' around waitin' for my life to begin
While it was all just slippin' away
I'm tired of waitin' for tomorrow to come
Or that train to come rollin' 'round the bend
I got a new suit of clothes and a pretty red rose
And a woman I can call my friend
It's another case of the man hitting the road, a place with whic he is most familiar, in the hope of reacquainting himself with himself. The saga continues on the next two cuts, "Lucky Town" and the harmonica-driven "Local Hero":
House got too crowded clothes got too tight
And I don't know just where I'm goin' tonight
Out where the sky's been cleared by a good hard rain
here's somebody callin' my secret name
I'm going down to Lucky Town
The opening threesome offers singing as gutsy as any Springsteen has ever done, and sounds as if he took a cross-country drive in a convertible with John Fogerty.
Springsteen has the nearly unmatched ability to convey profound ideas while wrapping them in catchy, clever and often humorous pop songs. On "Human Touch" and "Lucky Town," he has combined an intense mixture of love, sex, relationship, selfawareness and religious imagery within a cast of characters still searching for the promised land, all-the-while questioning if what they are doing is really right
He's still the troubador of the early 1970s, but also a writer more than 10 years down the road, wiser and more concise. And although he has yet to find reconciliation, Springsteen is still willing to offer his vision to a world starving for it.
>* * * * * *
In 1984, "Born In the U.S.A. spawned several hits, but they came in a long sequence over almost two years. While "Tunnel of Love" did not have that kind of staying power, these two recordings might.
Columbia, Springsteen's label, has said it wants to avoid the saturation of 1984, but there are several tailor-made hits among the 24 new songs (14 on "Human Touch, 10 on "Lucky Town"). They include: "All or Nothin' At All," "Cross My Heart," "Roll of the Dice," and "Real World," from "Human Touch"; and "Leap of Faith,"
"Better Days," "If I Should Fall Behind," "Local Hero" and the title track from "Lucky Town."
Area record stores report strong sales for both recordings. Ben Jones, of Better Days Records, and Andy Polk, of Ear X-tacy, both say that customers are usually buying the discs together.-