The Doctor's House Call
By Wally Stewart
The complaint that doctors don't make house calls is time worn but on March 28 over 400 twisting, shouting patients in Seymour, Indiana, would have disagreed after receiving treatment from the healing blues of Dr. Duke Tumatoe and the Power Trio. The Dr. brought his medicine bag and instruments to the Pines Evergreen Room -- a local banquet hall on U.S. 31 -- for a sold-out visit promoted by Seymour rock station WJAA. This longtime blues physician sang lead and operated with a modified Les Paul Jr. that's served him for oven twenty years, and was assisted by bassman Mark Rhorman, drummer Rick Bole>, and guitarist Donnie Lee Clark. Starting with "Do It Right" and "Choice Tattoo" from their latest release,Dr. Duke, they kept the adrenalin flowing throughout the night, mixing originals with standards "Sweet Home Chicago," "Kansas City," etc. Duke showed why he's been able to play with Muddy Waters, Bo Diddley and others, scorching one white-hot lick after another and, after he made "rounds" on the "floor," the stage area became jammed with dancing patients.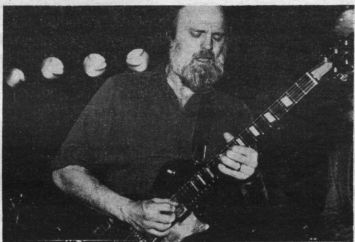 Duke Tumatoe. Photo by Paul Natkin
Tumatoe is a South Chicago native but now calls Indianapolis home, and after intermission expressed the moanings of countless Hoosiers in "Lord Help My Colts," a humorous plea for Divine Intervention on behalf of Indiana's hapless NFL team. (Even doctors need help at times.) Duke Ellington's "Do Nothing Till You Hear From Me" was an emotional treat but the Dr. sensed his patients wanted to boogie and that was his primary prescription.
The "call" lasted over three hours and two-thirds of the house stayed after midnight, not wanting their physician to leave. This was the second show promoted at the Pines Evergreen Room by WJAA, and continuance of them is planned.