The Judd: Wynonna Goes It Alone
By Jean Metcalfe
The screaming, stomping fans in the scant two-thirds-full Louisville Gardens more than made up for the empty seats as Wynonna Judd made her first local appearance since Naomi retired from the mother-daughter duo. In fact, somewhere there must be at least one female who can speak only in a whisper. Alas, that fan sat in my section of the arena on Friday, April 10. And she adored Wynonna.
When the large gold "Wy" in a circle was reeled onstage as a back-drop decoration for the younger Judd, the fanatic cut loose with a head-turning yelp that must've been heard in Ms. Judd's dressing room.
In short order, and looking great in a sparkly black costume, Wynonna appeared. The fans were on their collective feet to receive the attractive, long-maned performer's greeting: "I'm back."
Assuring them that "(I'm Gonna Do) Just What It Takes (to Keep a Smile On My Face)," the pretty young singer finished the cut from her first solo album,Wynonna, then said: "I wanna welcome you to Wynonna's World."
After a nice rendition of "I Saw the Light," from the album, which is scheduled to be her next single, she sat down on the edge of the stage, saying, "Thank y'all for being here for my coming out party."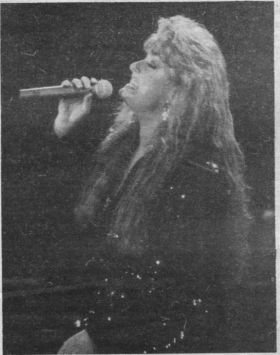 Wynonna Judd at Louisville Gardens. Photo by Jean Metcalfe
"Mama He's Crazy," the Judds first No. 1 hit, was dedicated to Naomi Judd who was in the audience. (as were several serious-looking TV cameras, at least one of which was later discovered to be from Nashville's TNN). The explosion of enthusiasm almost caused one to glance upward to see if the roof was still in place.
"Y'all just keep it up," she said. And they did.
She followed with another duo hit, "Why Not Me," about which she said, "I kinda feel like this is my theme song all over again." She dedicated it to "all the dreamers out there." The applause was greatly magnified when the line about "this Kentucky girl" came around.
Wynonna was at her best on her current and first No. 1 hit song, "She Is His Only Need," with which she made her solo debut on one of those prestigious awards shows. (How can we keep track of them all?)
The three back-up vocalists (two female, one male) were excellent throughout Wynonna's performance on the multi-level stage, but it was on this number that they shone brilliantly.
She sang "Rompin' Stompin' Blues" for "all the women out there," but dedicated it to "that ugly Billy Dean," who had preceded her onstage.
"Songs like this one are why I keep singing," Wynonna said to introduce "Live With Jesus."
"Somebody say 'Amen,'" she prompted.
The deafening foot-stomping brought Wynonna back for a couple of encore numbers, concluding with "It's Never Easy to Say Goodbye."
McBride and the Ride, who had been nominated by the CMA for Vocal Group of the Year, opened the evening with an enjoyable thirty-minute set that concluded with a very nice inspirationala cappella number.
Tall, handsome Billy Dean, who is also quite a good singer, held forth for an enjoyable, energy-filled forty minutes. He has several hit songs and CMA nominations under his belt, and it was apparent that he had earned them. Dean referred to his travel with "two of the hottest chicks out there -- The Judds -- and dedicated "You Don't Count the Cost" to Naomi Judd.
Applause, applause!
The set included a song about his boyhood that brought visions of the tyke star of "Calvin and Hobbes." I wondered if he had owned a "killer bicycle" or a stuffed tiger that comes to life when no one else is around.
After a lovely rendition of "Somewhere in My Broken Heart," Dean said, "Thank you for the No. 1 song, and thank you for the nominations." He went on to acknowledge radio station WAMZ, which will receive the CMA's Station of the Year award on April 29.
Dean related that once someone had told him he should do a song "especially for the girls."
Then, answering the question "What wouldyou do if you were in a dark room with 5,000 screaming women?," Dean did a low-down, sexy rendition of "Steam Roller Blues," personalizing it with our city's name. During the extended number he left the stage to mingle with the fans, then returned to don dark shades for a well-received bit of shtick. It had the desired effect.
Reaching back for another hit song, Dean sang the wonderful "Pray What Needs Praying".
After what seemed a very short set, he slung his guitar over his shoulder and departed the stage.
The Louisville Gardens should've been SRO.