Willie
By Jean Metcalfe
"What I do for a living is get people to feeling good" -- Willie Nelson.
Only ten minutes remained until showtime, and "Honeysuckle Rose II" hadn't arrived. This long-timeWillie Nelson> fan was feeling plenty nervous. The legendary songwriter-performer had been expected to arrive at the stage door of the convention center at Owensboro's Executive Inn Rivermont much earlier on that pleasant March 28 evening.
It didn't help that I had overheard security personnel sizing up the situation this way: "Willie's gonna hit the stage at 8:00 and nobody's gonna get at him."
I reminded myself of advice given me a couple of days earlier by Willie's public relations people in Nashville when they had confirmed that I would be welcomed on board for a couple of questions and some photographs.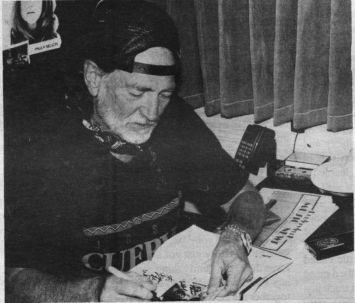 Willie Nelson signs an autograph for a fan. Phot by Tom Metcalfe
After some skillful maneuvering by the experienced bus driver, the bus was parked just so, and I waiting curbside. Everything fell into place when I located the road manager, and I soon found myself face to face with Willie Nelson. He smiled and said, "Won't you sit down."
Armed with a microcassette recorder, my copy ofWillie (his autobiography), the insert from his album "Who'll Buy My Memories" (the IRS tapes), three issues of Louisville Music News, a husband and two cameras (all pre-approved) I sat opposite Willie at his table as my photographer snapped away.
Forewarned to have my questions ready as "he's an intense interview," I quickly asked for an update on the just-concluded Farm Aid V and sales of the IRS tapes.
"Well, the IRS tapes now are going into the stores -- CBS/Sony will be distributing them -- and so they'll soon be available in all the stores. Farm Aid was very successful in that I think we reached more people than ever before. I'm not sure what the exact financial total was. I think we cleared somewhere around a million dollars."
"You'll have another one," I asked.
"We'll have another one," he promised.
Speaking about his famous battered, signature-covered guitar, I asked:
"Who would you like to sign it that hasn't signed it so far?" Then I tacked on "and who would you like to duet with that you haven't ...?"
He paused, then replied, "Oh, gosh, I have a lot of friends and heroes that I'd like to get 'em to sign my guitar. A lot of the guys who are in that category havealready signed it. Guys like Leon Russell and Johnny Bush. But there's still some guys out there that when I see 'em, well, I'll try to get their name on there."
Although Willie never once gave me the feeling I was imposing (even though he was due on stage as we spoke and despite the fact that a local television station was waiting to film him for the evening news), I put the pressure on myself. When he had finished the first of my two-part question, he paused, and I rushed in with another question: "Any mountains you haven't climbed that you wish you could?"
Before he could answer I expanded on my question:
"I know that you've passed the 50 mark (he would be 59 on April 30)...."
"They run on by there pretty quick," he laughed, his eyes twinkling.
Perhaps he would have answered my question if I had repeated it or had waited a bit longer. Instead I handed him three issues of this newspaper, which I had earlier jokingly told him I had started just so I could meet him. (My fellow publisher had suggested that line.)
I offered the book, with the CD insert bookmarking the page to be autographed. I watched as he wrote "To Jean, Love, Willie Nelson" on both items.
I thanked him profusely (I think he is accustomed to this kind of reaction from the ladies, and I suspect he is amused by it.) I also told him that he had already completed his job even before the concert; he had made me feel good.
"I probably will never get to see you again," I said, and as the words came I thought to myself, 'How morbid sounding, as if one of us is terminally ill.')
"Except in the seats [at concerts] ...," I added.
Willie interrupted, "We'll be back here again and you'll have to come out and get an updatefor your paper."
I told Willie I had enjoyed reading his autobiography, and I referred to a couple of stories in it that I had especially enjoyed. He chuckled appreciatively.
Before departing the "Honeysuckle Rose II" I asked Willie to pose for a photograph with me and he graciously obliged. (I hadn't meant to smile so broadly.)
Again thanking him profusely, I took my leave. The considerate road manager pursued me and inquired if I had been given any photographs. Since I hadn't, he rushed toward the back of the bus and returned with two 8 x 10 color prints.
The excellent hospitality extended to me gave me new courage. I asked if I might return later to deliver a basket of items I had put together for Willie (which I had left in the car). The basket contained a thank-you note, a letter I had written on behalf of the Louisville Area Songwriters' Cooperative, an LASC compilation tape that contained a cut of "Willie, Please Sing a Duet With Me," which I had written. (I had, upon meeting Willie, told him that I was a songwriter, but that I wasn't going to pitch him a song.) Other items were my own personal LASC sweatshirt and a reissue of an LASC lifetime honorary membership card. I had attempted to get Honorary Membership Card No. 2 to him in a basket of goodies in November of 1986, but the attempt had turned into a curious happening too complicated to relate here.
"Sure, bring it on," I was told.
From his perennial show opener "Whiskey River" through "Stardust" and "Will the Circle Be Unbroken," the concert was awonderful and generous two hours of Willie Nelson. There was also a nice new song he had written for the recent Valentine's Day.
Although not as rowdy as at past Willie Nelson concerts I had attended, the approximately 2,300 fans (a full house) expressed wild enthusiasm for the legendary singer-songwriter. Perhaps the setting and the ticket price ($32 per) weeded out all but those who wanted to hear every single word.
At concert's end, the basket, with a red bandana tied around its handle (to match the one Willie usually wears), was successfully handed onto the bus as a large group of fans gathered around the bus door, hoping to meet the "Red-Headed Stranger." I easily spotted lanky Gatewood Galbraith (wearing, not surprisingly, a serious-looking black cowboy hat), and assumed he would be one of the chosen few. I didn't wait around to find out.
Back on the road again, past midnight (and we would lose an hour between Owensboro and Louisville), we stopped for a bite at a local fast-food restaurant. Although I hadn't eaten since lunch, I still wasn't hungry. I recalled that Willie had admitted in his autobiography that the ladies love him.
I cannot argue with that.