Leon Russell in Concert at Hurricane O'Malley's
By Allen Howie
Once every ten years, I get to see Leon Russell in concert. His performance on April 22 for a small but enthusiastic audience at Hurricane O'Malley's, my third opportunity to hear him play, was every bit as riveting as the first time I saw him in the early Seventies.
From his session work for Phil Spector to his show-stopping performances with Joe Cocker and George Harrison and his own solo recordings, Russell has built a formidable body of work that is as listenable today as it was when he first began performing.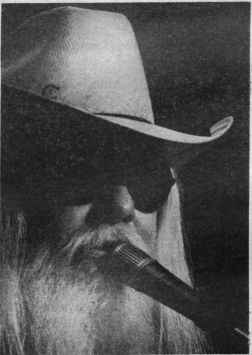 Leon Russell. Photo by Allen Howie
Before the show, it was announced that the singer was scheduled to undergo hip replacement surgery soon and as he entered the club's main room, he walked slowly and deliberately. With his flowing white hair and beard, he looked for all the world like Moses come down from the mountain (had Moses worn a cowboy hat, shades, short-sleeved, sport shirts and deck shoes). Accompanying himself, without even his trademark backup singers, he nevertheless sat down and served up an hour's worth of his own greatest hits plus a generous helping of classic rock 'n ' roll.
Not much for chatting with his audience, Russell launched right into "I've Got A Woman," followed by the first of many audience favorites, an edgy "Back to the Island" that updated the languid original. From there, he waded into the funky blues of "Hoochie Coochie Man," then brought a roar from the crowd with a snappy rendition of "Tightrope," his biggest commercial hit.
This was the pattern for the rest of the show a couple of Russell originals, with all the real fans singing along, followed by a couple of old chestnuts dusted off Leon-style. A pounding version of "Out in the Woods," punctuated by the trademark screams that have lost none of their scary intensity or dead-on pitch, was followed by the quietest song of the evening, a touching and heartfelt "Lady Blue."
Throughout the show, Russell delivered a rich, full-bodied sound that had you convinced there was a band up there somewhere, his left hand hammering out hard-as-nails southern rhythms while his right glided and danced over the high end. All the while, the singer remained virtually motionless, calling up his unique brand of fire and brimstone while seeming to sit stock-still. The treats continued unabated, including a jaunty "Stranger in a Strange Land" and a personal favorite, Russell's reworking of "Somewhere Over the Rainbow." Where the young Judy Garland gave the world a bored child's daydream, Leon sang like a man who had been to that fabled land and was now in exile.
Next came the only song of the evening from Russell's just-released Anything Can Happen, an intense gospel rave-up "Jezebel," introduced by the singer in his only comment of the entire evening any southern preacher as "an old preacher's tune." The singer's trip-hammer playing ant hell-hath-no-fury delivery would have done proud, as he recounted the tale of the ill-fated Old Testament queen and her wicked ways.
The string of favorites continued with "Delta Lady," Russell's tribute to Rita Coolidge made more famous by Joe Cocker and a fine saloon send-up of Hank Williams' "Rollin' in My Sweet Baby's Arms." Then came a surprise; instrumental versions of Beatles' classics "Eleanor Rigby" and "Good Day Sunshine" that served as the introduction to a stately "Song for You," one of Russell's most beautiful songs and a hit for the Carpenters.
Never one to let the audience get too relaxed, the singer barreled into a frenetic "Jumpin' Jack Flash" that brought the crowd to its feet, followed by a torrid "Great Balls of Fire" that the Killer himself would be hard-pressed to top. With the crowd dancing, shouting and singing along, it was again hard to believe that all this sound and fury was generated by one person.
The last two songs of the evening were as strange and satisfying as anything that had come before: an instrumental "Paint It Black" that was every bit as malevolent as the Stones' original and a boogie woogie "Kansas City" that made Paul McCartney's recent cover pale by comparison. All told, Russell had given the crowd twenty songs in the space of an hour, running the gamut from jazz and gospel to honky-tonk R&B, playing each style as if he had invented it.
A couple of things would have improved the evening. The length of concerts keeps shrinking and in spite of the strong performance, it could have been longer. Also, the show was advertised to begin at 7:30, so when a local DJ announced that Leon would come on at 9, you could see many in the audience scrambling to call baby-sitters. Don Blackburn, one of the owners of Hurricane O'Malley's, told me before the show that this was their first shot at bringing in such a well-known performer. While they couldn't have picked a better way to start, in the future they may want to make certain that the show will start when promised. Finally, the sound could have been a little cleaner, but it wasn't bad and the performance compensated for any shortcomings.
On the plus side, the staff at Hurricane O'Malley's was efficient and unobtrusive, two members of da Mudcats did a nice job warming things up and the show did start precisely at 9. With a voice that retains its vitality in spite of the years and musicianship that remains unequalled, Russell gave his audience a performance that was as close to perfect as they come.