LASC October Showcase By Wally Stewart
This month's LASC Showcase was held on Oct. 3 at The Rudyard Kipling and featured a mixture of country, midwestern rock, folkish blues, and electronic creations.
The program began with the somewhat quiet yet intensely emotional songs of Jackie Johnson. Jackie owns the Music Maker Cafe in Fairdale (on metro Louisville's southwestern side) and left it long enough tonight to sing mostly of life's hurts, while not leaving his audience hurting. Earlier this year Johnson represented the Co-op at Kentucky Music Weekend, along with Larry Standiford (also on this evening's show), and after hearing him then I was looking forward to his set.
That first hearing attached me to "The Big Break in '75" and "One That Never Will." Seeing a homeless guitar man in Nashville produced the riveting "Break," which said, "Son, let me play you this song that I wrote just to keep sweet Annie alive . . . I got my big break in '75." Although he had experienced commercial musical success, the big break came to his heart when his woman died, shattering his life.
"One" spoke of seeing the New Year in without a former sweetheart and referred to the traditional singing of "Old Lang Syne": "I couldn't bring myself to say, 'May old acquaintance be forgotten,' I know one that never will." Johnson described his music as falling somewhere between the cracks -- not quite country, not quite rock. "A Seasoned Love Affair" was very blues-oriented and Jackie showed a lot of humor in "Plastic Patty," describing a woman spending lots of money on cosmetic surgery. This musical businessman was given a lot of applause at the end of his act, and is scheduled to perform on the LASC Songwriting Seminar, November 6.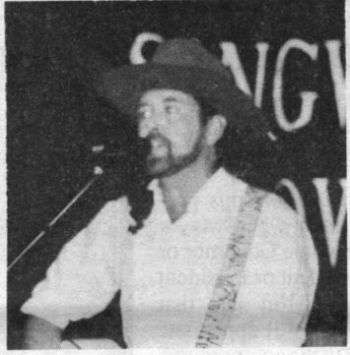 Showcase 'Rookie' Jack Johnson
The blues side of folk came to the stage when Susie Woods brought her guitar and wide-ranging vocals for a set of originals and one cover. The cover was mega-legend Jean Ritchie's "The L&N Don't Stop Here Anymore," and the originals included co-writings with Bill Smith and with Co-oper Karen Le Van on "Last Night I Had Too Much to Dream."
"Dream" portrays someone missing and dreaming of a departed lover: "Last night I had too much to dream, felt your memory in my head," and Susie's slow, growling delivery easily brought the crowd into the dreamer's aching.
Some originals came from a time when Woods lived in California and one of these was "Drink." It did not deal with beverages but implored someone to drink of the singer.
This local chanteuse recently opened for renown poet Alan Ginsberg at a University of Louisville appearance, and is busy working on a self-release tape due out in December and a compilation tape to be released by U of L's Thinker magazine, in addition to getting ready for a new family addition due in November.
Susie's stylings are reminiscent of Janis Joplin, and she closed with a passionate story about relationships that don't seem to last, her "Forever Ain't Forever Anymore."
After an intermission Larry Standiford turned the sound board over to Co-op president Paul Moffett and presented an extensive set of John Mellencamp-influenced tunes. Larry is a very hard-working Co-op board member and agreed to appear at the "eleventh hour" when a scheduled performer had to cancel. Most of his songs dealt with relationships and were heard at the previously mentioned Kentucky Music Weekend gig.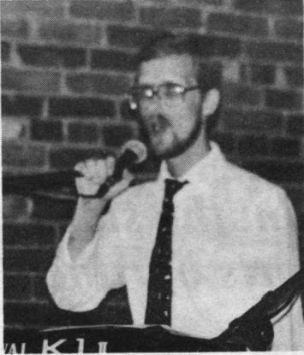 Showcase 'Rookie' Ray Yates
One I hadn't heard before was "Into the Night," and described a person who tries to replace a lost lover and finds "someone just like you," but still wishes for the original person to be back. A treat came when he sang of his love for fiancee Shara Haq (who was present) in "Satisfied Man." It was written for her and said, "Maybe someday it will be clear why you were sent down here . . . He sent down an angel for me."
Standiford showed an attitude I greatly appreciated when he covered one of Co-oper Earl Meyers' tunes, saying, "If you're going to cover songs on this show, I think you should cover songs by other members of this group."
Another of Larry's new-to-me originals was "A Lover's Cry," which found a man looking for a one-night stand and falling in love. True to his nature, when Standiford finished his time he went back to work the sound board for the last act.
That last act featured Ray Yates, who has been a Co-op member less than a year but who has become another hard-working, enthusiastic supporter. Earlier this year he assumed several positions that came open in the group when Diana Black moved south, including columns for the LASC Letter in this paper. Tonight was his first Showcase and only his second "live" performance in the last eight years.
He used a combination of computerized keyboards and when emcee Jean Metcalfe asked if he had a name for them (as in Co-oper Charlie Walls' "Silicon Valley Boys") he replied, "No, but they're a pain." So Jean dubbed the act "Ray Yates and Pain," causing a lot of laughter.
Ray's sound was quite a departure from the acoustic guitars heard in the previous acts, and very creative things were heard (although the sound was a bit too loud for the vocals).
On "School's Out" he sang of dreams we have of life after our formal schooling's over, and how they don't always come true, sounding somewhat like Dan Fogelberg. When Yates played "It's Just a Heartbreak," local music connoisseur Bill Ede told me it sounded like "pre-solo Todd Rundgren." This song spoke of a man who realizes that his heartbreak is his own fault: ". . . 'cause when she needed me I wasn't wearing my ring, that's when he came around."
A couple of his compositions were done for specific people; "1975" was for his mother and stepfather's 15th wedding anniversary in 1990, and the instrumental "A Brief Affair" was done for a friend whose wife died in a traffic accident.
After the show Ray said that he recently put music to a video for Volunteers of America and that he wants to do more commercial projects. He mentioned that he would like to say to Co-op members that they'll get out of the group what they put into it. (That's probably a good thing to remember about any group.)
There will not be a Saturday Showcase in November but there will be a very special one at Jim Porter's Good Time Emporium on Nov. 6 as part of this year's LASC Songwriting Seminar.