Musicians, Clubowners Lend Helping Hand
By Jean Metcalfe
George Chappell and Rick Burress have given Kentuckiana music lovers a lot of musical enjoyment for more than a decade. So, when Chappell was injured in a freak incident and Burress underwent major cancer surgery recently, their fellow musicians, area club owners and fans gave something back.
An excellent representation of bands played on one or more of several evenings in September and October at benefits for the two musicians at the Sahara Club, the Village Pub and Yogi's. Unfortunately, the names of all the participants were not available when deadline rolled around.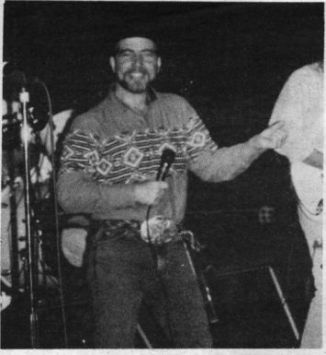 Ron Peake and Open Country lend a helping hand at Yogi's on October 5. Photo by Jean Metcalfe
We hope (and feel sure) that everyone who contributed to the success of the benefits will understand and take comfort in the fact that they made a difference.
Louisville Music News sends a standing ovation out to all who participated in the events and sends get-well wishes to George Chappell and Rick Burress.