OKLAHOMA? O.K.!
By Leslie Turner
I've never been to Oklahoma, but some how I think if I went I'd be a little disillusioned. After enjoying the musical "Oklahoma" year after year since I was a child, I fully expect to be able to step off a train into the arms of a handsome cowboy and hop on a smart little surrey for a ride to a big white farmhouse, where a stuffed chicken dinner with all the fixin's will be just a-waitin'.
"Oklahoma!," now playing at Derby Dinner Playhouse for the next several weeks, proved to be an excellent rendition of the time-honored, traditional, "good guy gets the girl," rompin', stompin' musical we've come to expect and enjoy!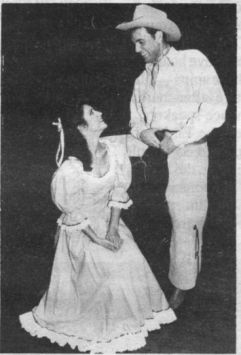 Lee Buckholz as Curley, Colette Delaney as Laurey
I love character roles and was particularly impressed with Colleen Tueth's believable and charming interpretation of Aunt Eller. Paul Kerr positively gave me the chills during "Lonely Room," where his character, Jud Fry, decries his station in life. This is the first time I've seen this character played with a strong air of twisted derangement. I liked it! Bill Hanna and Renee Dobson were adorable in their roles as Will Parker and Ado Annie, about as racy a relationship as you'll see in a 50-year-old script.
Lee Buckholz and Colette Delaney were, of course, well matched as the romantic leads and did not disappoint with their onstage chemistry. Truthfully, I can't fault any of the characters and would take my kids to see this musical in a flash.
Now approaching its 50th year, "Oklahoma!" still manages to touch an American nerve and make us all wish we could afford to spend a week at the nearest dude ranch. Ifin' ya cain't afferd t' go out West, hitch up yer horses 'n head on over't the Derby Dinner Playhouse fer the next best thing.
My only complaint? After that auction scene, I really wished I'd had my dinner in a pretty basket with the aroma of hot blueberry cobbler filling the air and a fiddler keeping time in the background! The "Oklahoma!" performance might have been a great opportunity to vary the menu a little.