On the Road with Ray Boltz
(My Letter to the Editors)
By Paul Turner
"What is it like being on the road with Ray Boltz?" was the question I was posed by the editor of LMN. Although I get asked that question frequently and my answer varies, depending on what part of the gig I feel that person would most likely be interested in, this time is a bit different, obviously, as it is in writing and I'm "talking" to people I can't "see."
First of all, I would like to say that I got out of the music business on the West Coast thirteen years ago because after having enough success in the biz to see what it (and they) were like, I became disillusioned with the business — "the games that people played," to borrow a Joe South phrase. So I got out — at least as a career.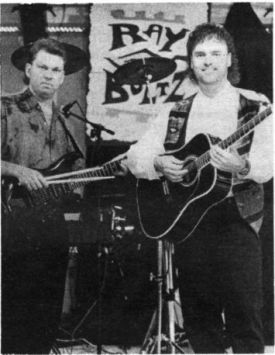 L to R, Paul Turner and Ray Boltz
Ray's producer, Steve Millikan, who I traveled with in 1979 in a group called Selah, knew I wanted to play for someone who I respected as a person just as much as an artist and performer. Sounds easy, but believe me it's not. Ray certainly has my respect in many areas.
Also I want to mention that traveling with Ray and company is good company indeed. True Heart, a duo that opens for and backs Ray vocally, consisting of Greg Gilpin and Trina Gaither (Danny's daughter and Bill and Gloria's niece) have had a hit on the inspirational charts with their single "Not So Far Away." Also currently in "the company" is Brad Gillum, who is a Christian rap artist now on Brentwood records and doing well in his own right. Ray involves the others to widen his audience and to bring variety to the concerts, as well as to give them exposure. And they certainly do.
With the release of Ray's new album, Seasons Change, you can't help but notice a widening of direction musically. Not only containing the ballads he is well established for, but some tunes that are much more contemporary as well. Unfortunately you can't find these on WJIE, due to their more contemporary sound. That new direction brings a new dimension for concerts, obviously.
Ray has so many successful songs that it poses an interesting problem, for me anyway. Since Ray doesn't use a set list during performances (!) he will choose a song at the moment for a certain effect. Not only can we not do them all in any given concert, we now have a medley of his biggest hits from his Moments from the Heart album — a collection of those "biggies."
On the way home (from) a Texas series recently (we left Dallas at midnight and drove straight through to Muncie), we heard a radio station play two or three songs we haven't done for months. (Hey, Ray — good songs!) Instead of being at the mercy of a locked-in set list, Ray will pull out a song — depending on a particular audience and show's direction. In Dallas we did "What Are We Doing Here," a more progressive tune from the Seasons Change album. By the look and feel of the crowd (of about 3,000) they came to hear the older hits. So he introduced "I Will Praise the Lord" and we "won back" the rather conservative audience. The rest of the show was all downhill from there.
The introductions are my only clue of what's next and whether to pick up a guitar and which one — or to play drums, which are electronic and are played standing up.
Mike Jarnagin, Ray's sound man, who does a great job setting up the stage, working sound and lights and driving truck (and tackling any problems that arrive regarding these), stays on his toes to know which song to cue for the soundtracks which are often used. By the way, he does all that (and more) with a sense of humor. Now that's talent. I think it's like juggling seven basketballs and telling jokes at the same time.
I've appreciated Ray's conviction and sincerity as a performer as he makes every show and every song and introduction fresh. I don't know how many times he has sung his song "Watch the Lamb" (and I know he doesn't know either), but each time he tells the story of the father who takes his two boys to the Passover and reacts in love as they lose the lamb he has put them in charge of — it's like he's telling it for the first time.
The songs that he has written or co-written are familiar Bible-based stories like David being chosen ("Shepherd Boy"), Paul and Silas in prison ("I Will Praise the Lord"), Stephan's stand for faith ("Someone Stood Up for Steven") or the new one about the blind man who Jesus healed ("I Want to See") are made bigger than life on stage.
One difference in Ray's audience is that it is well received by all ages — and now more than ever, his albums and concerts draw mom and dad and the kids (and many times grandma and grandpal). I'll look out on audiences and find representatives from all age groups.
As the last album proves, Ray is not content to do only the type of music that made him the success that he is, but is reaching out in new directions both on tape and live.
I feel privileged to be here to watch it haooen. I hove you can soon, too.
While Ray's new album, Seasons Change, entered the adult/contemporary charts at No. 10, his Moments for the Heart is at this writing riding at No. 4 on the inspirational chart. The first cut from his Seasons album is entitled "Saving Grace" and has been at No. 1 on the A/C charts. Who said nice guys finish last?
P.S. For you ministers reading this, as you might expect, we get a favorable response from every show. I'd be happy with a booking in the Louisville area so selfishly I could see the wife and kids. (For info call 317-286-3065.)