Tempus Fugit
By Paul Moffett
Mark Watson, saxophonist for Tempus Fugit, wears his baseball cap bill to rear. After spending a while in his company, it's plain he wears it that way for streamlining, not style.
Watson walks, talks and plays his saxophone with a Groucho Marx-like frenzy, scattering comments and riffs in every direction just like the Marx Brothers fired jokes in their movies. Not everything works, but the sheer volume compensates.
So how does he describe the group's music?
"Kentucky funk," he said, "the rhythm side of soul. Just don't call us a blues band."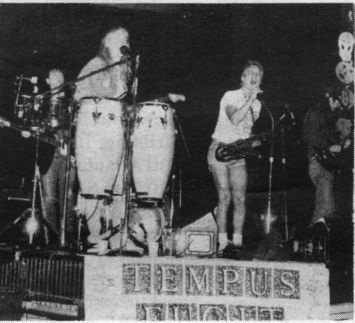 Tempus Fugit at Phoenix Hill Tavern. L to R: Matt Burke, Pat Watson, Mark Watson, and Woody Mauldin. Photo by Paul Moffett
Those blues and R&B roots remain plain, however, with songs by the Neville Brothers, Bill Withers, Gladys Knight and the Pips and Ray Charles high on the playlist. But then there are all those Grateful Dead tunes and the SugarLoaf hit, "Green-Eyed Lady."
The Dead tunes come courtesy of guitarist Woody Mauldin, who is a major Jerry Garcia fan. Mauldin and Pat Watson, Mark's brother, are the co-founders of the group and were the mainstays during the lean years. Pat handles the lead vocals and pounds the congas, cowbells, tambourine, and timbalis, plus a bit of flute and guitar.
"He's the talented one," says Mark of brother Pat, "and he's got great taste in music."
Mark Watson re-joined the band a year and a half ago, after moving back to Louisville from Chicago, where he had lived for eleven years. His return to Louisville was driven by a desire to be close to his son. He also realized that it was possible to make a living with music in Louisville, unlike other cities. He set about getting the band onto a sound footing.
"We just keep adding to the circles," he mused. Audience-building is the key to making a living, according to Watson, so the group plays at different clubs and venues, steadily adding to the list of places where they have fans.
"We don't really want to go be big stars, touring and all that. We just want people to be interested in what thing we're doing next." Watson speaks with the sureness of a musician who has spent twenty-two years in the business, and the wistfulness of a man who has not yet fulfilled all of his dreams.
"Sticks Mandalay" is the name the drummer is using these days. "Sticks" works a real day job and likes to be careful.
Matt Burke on bass is the newest member of the group, replacing Dennis Talley. Burke moved to Louisville from Nashville and is currently working for Phil Copeland Productions. With a bit of raw experience in the Nashville music scene, Burke says he is happy to find someplace where he can play music steadily and make a living at it.
At a recent Phoenix Hill gig, the group put on their best show in spite of many difficulties, not the least of which was the thunder from the Saloon below, where Webb Wilder was holding forth. In addition, "Sticks" was running late due to a "real job" conflict, so Murphy's Law's Paul Woods was sitting in for him. Most bands would have managed a dispirited set, but not Tempus Fugit.
"We're entertainers," said Mark. "We want you to leave a gig feeling like you have been entertained." He danced around onstage in very short cutoffs and blew his saxophone madly.
Pretty entertaining, these guys.