Pile up enough good shows and you get a formidable month of music. November is packed tightly with solid music from local and national acts, the highlights being a weekend celebration of local music at the beginning of the month, a visit from the unforgettable New Duncan Imperials and a string of impressive country shows at Louisville Gardens. If the winter winds are making you cold, huddle up in your local tavern (or cozy arena) and get warmed by a conversation in the universal language: music.
Bad Company is gracefully greying, sailing calmly into the golden waters of middle age, breathing life into the warty, hideous corpse of '70s rock. The trio may still occasionally sport a rebellious look, their facial wrinkles furrowed in bad attitude. See the spectacle for yourself on November 7 at Louisville Gardens. I feel like making love.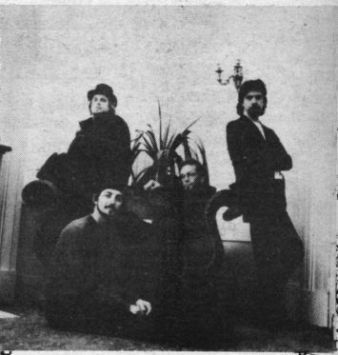 The Subdudes
The Beat Daddys, Evansville's R&B and blues experts, will play a weekend at the Cherokee Blues Pub on November 20th and 21st. Check out the smiles on their faces, planted there by the recent release of their album. "No, We Ain't From Clarksdale."
The Louisville Gardens has nailed down a fine night of country music on the 6th, featuring Conway Twitty, George Jones, Tom Wopat, Vem Gosdin and the Hotfoot Quartet. You get all that for just $19.50.! Heck, either one of the two legends on the' bill — Conway Twitty and George Jones are worth shelling out an Andrew Jackson for.
Jack Salmon and Derby Sauce is the name of the new release from Steve Ferguson & His Midwest Creole Ensemble and my, what a tasty gumbo of soul, R&B and rock 'n' roll it 'tis. The album should whip up interest anew in Mr. Ferguson and his talent. You have the chance to see it live at Uncle Pleasant's on November 20.
The Hammerheads come home for a show at Hurricane O'Malley's in support of their successful new album. Funk meets mid-west rock meets classic rock in this talented quartet. They tear up cover songs, led by the guitar wizardry of Greg Foresman and their original material has come a long way, too. The Hammerheads play on Halloween.
Rock's biggest wise guy is down the street that night at Louisville Gardens. Joe Walsh —' once an Eagle, once a member of the James Gang, always a hot guitarist — is playing there on October 30. Rumor has it Joe is running for president on the Ordinary Average Guy ticket, so the show may include a stump speech.
The Louisville Area Songwriters' Cooperative is hosting a showcase on November 6 to get local songwriters and bands signed up with the big boys. You can hear the homegrown music at Jim Porter's Good Time Emporium on November 6. If you make your way over to the club on Lexington Road, you'll see 14 bands for just $4.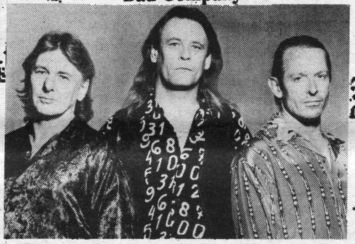 Bad Company
Homefront operates in the long shadow of the Lonesome Pine Specials, yet that organization has quietly been bringing talented artists to Louisville for over eight years To call Homefront a small-budget version of bringing LPS is to slight the musicianship of Homefront's performers. For instance, November's Homefront show features the Texas Rubies and the Cactus Brothers. In dulcimer player David Schnaufer, the Cactus Brothers have a musician on par with anybody on stage at the Bomhard. The Cactus Brothers were formerly Walk the West before they embraced country with open arms. And the Texas Rubies are a duo of fine songwriters/lovely ladies from Chicago. They play at the first Unitarian Church on November 14.
It's MERF time again. The Musicians Emergency Relief Fund is having their annual extravaganza on November 8 at nine venues, featuring 78 bands and costing you only $7. Pay your donation to MERF, get a stamp and go to Cherokee Blues Club, Holiday Inn Hurstbourne, Jim Porter's, The Rudyard Kipling, Sahara Club, Toy Tiger, Uncle Pleasant's or Yogi's. Visit them all, or settle down at your favorite place. The proceeds help local musicians pay for things like unexpected surgery, house payments that can't be paid due to unavoidable circumstances and other emergencies. Blues, rock, '6Os, alternative, country, college, acoustic, jazz and variety music are represented at the participating places. Support local music and get the bargain ofthe year.
The Midnite Ramble Series opens with Marlena Shaw, a soul singer billed as "versatile, charismatic and jazzy." That takes place in the Bomhard Theater at the KCA on October 31.
See the Beat Daddys on Friday, so you have Saturday open to catch the New Duncan Imperials at Uncle Pleasant's. If you haven't seen them, then I'm sorry, this is a mandatory performance. If you have experienced their Texas-style blend of Jerry Lewis, Jerry Lee Lewis and the Ramones, then you won't need any urging.
The Poster Children have been written up in Rolling Stone and other trade pubs and the word "pop" is always used. Fresh scrubbed with an alternative edge, The Poster Children could be the Next Big Thing. See them at Tewligan's Tavern on Bardstown Road on November 1.
The alternative pop of The Connells comes to Phoenix Hill Tavern on November 1 Two days later, PHT has the subdudes bringing their New Orleans-bred mongrel 1 R&B, soul and blues to the Tavem's Saloon. While subdued may be a bit strong, the subdudes' music is a bit mellower than most N.O. style rock. Check it out.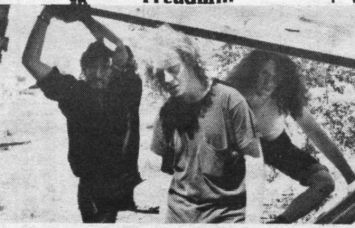 Treadmill
"There's a toad in the garage," a Hurricane O'Malley's employee may whisper on November 3. They would be talking about Toad The Wet Sprocket, a melodic, literate rock band from Santa Barbara that has had two top ten hits in the last year. The Gin Blossoms, an organic five-piece rock band with folk and alternative leanings, will open the show in O'Malley's Garage
From the genre that gave us Soundgarden, Black Sabbath and 7 Seconds comes Treadmill, a hard rock trio from Albuquerque. To thrash or nod intently, go to Tewligan's on November 4. While the group reportedly eschews marketing and general pandering to the consumer. their brand of music is hot right now.
At the very far opposite end of the spectrum is Andrew Lloyd Webber's "Aspects of Love," a show promising heartfelt sentiment, lush music and bold, straight-toothed tenors. Webber's exploration of romance plays at the KCA as part of the Broad way Series on November 24.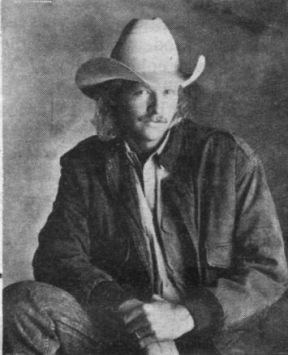 Alan Jackson
The Dirty Dozen Brass Band's newest album, Open Up, can't be praised enough. See them live at the Kentucky Center for the Arts on Friday, October 30. It's part of the Lonesome Pine Special series.
Dougie MacLean and Band, purveyors of Celtic music and fine songwriting, visit the Kentucky Center for the Arts for a Lonesome Pine Special on November 6. MacLean has written a number of songs for Kathy Mattea and the Scotland native will play country, folk and contemporary music as well as Celtic music at the show. The LPS series has never disappointed before, so take a chance with Dougie.
Noted vocalist Della Reese joins the Louisville Orchestra for a show on November 28 at the KCA. Once a member of gospel singer Mahalia Jackson's troupe, Reese hit it big in 1959 with the hit "Don't You Know." She has enjoyed recent success with her acting talents.
Kansas again? Evidently there are enough fans out there satisfied by the contemporary lineup of 1977's most played progressive rock band to make it worth Phoenix Hill's trouble (and money). So carry on, wayward son. If you must indulge yourself in nostalgia, see the band on the 26th.
The month's string of performances ends with a strong country show at Louisville Gardens starring Alan Jackson ("Don't Rock the Juke Box") and Diamond Rio ("Norma Jean Riley"). The folks down at the Gardens are on the right track with this November 29 concert.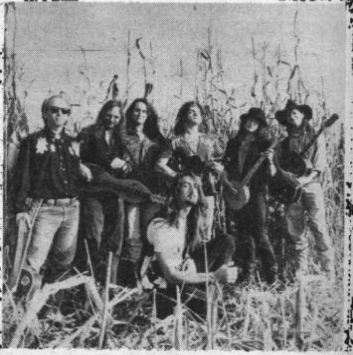 The Cactus Brothers
If the previous listings didn't include your kind of music, don't despair – explore. Mary Jean Zena has organized jazz in the evening every Thursday at Zena's Cafe on Market Street, starting at 5:30 p.m.
Good R&B can be found at Willie's 537 Lounge on Oak Street, when male or female revues aren't prancing about. Covers of songs you know and love can be heard everywhere, from the world beat/dance of The World (Butchertown Pub, November 12-14) to the British Invasion sound of Nervous Melvin and the Mistakes (November 2528, also at Butchertown).I've heard good mixes of hip-hop albums will return to Studebaker's on Sunday nights in November. And Tom Browning has reunited the reggae/calypso band Sunblast for a regular gig at the Cherokee Blues Pub on Tuesdays. Your music is out there – go find it!