Recording Review
Snakes in the Playground (Starsong)
Bride
By Steve Estes
This is a great day for mine. I've just had my ears set on fire by some of the hottest rock'n'roll to beat my eardrums in quite some time. That's right, I'm speaking of Bride's newest: Snakes in the Playground.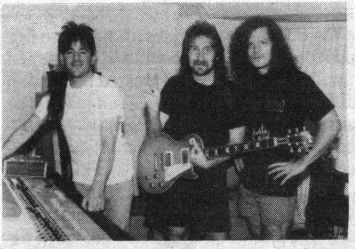 Kentucky HeadHunters bodacious guitarist Greg Martin stopped in to play some serious riffs on a couple of tunes for Bride's new album. L to R, Plinky, producer; Martin' Dale Thompson, Bride lead vocalist
Snakes come blazing out of the gate with a fresh yet familiar sound that will carry this band to new heights. Bride has achieved its new sound with the help of new producer Plinky Giglio, who adapted a mostly hands-off approach to producing this band. In addition, a few friends dropped by to play on this album. Among them were Greg Martin (The Kentucky HeadHunters), Ricke Florian (White Heart), Rick Elias and the Newsboys.
The band's new sound is reminiscent of Seattle bands Soundgarden and Pearl Jam, with a hint of Guns N' Roses thrown in 'for good measure. Dale Thompson's vocal strength continues to grow, while most vocalists from this genre would have already worn themselves out.
Songwriting once again proves to be the icing on the cake. My favorites are "Some Things Never Change," "I Miss the Rain" and "Psychadelic Super Jesus."
This is Bride as they've never been heard before. If you have never heard Bride live, this is just a taste of the live vibe.
(Steve Estes is Music Specialist, Berean Christian Stores, Louisville.)