David Olney and the Yonders at Homefront
By Paul Moffett
"We're gonna get hammered," said Dave Self, Louisville Homefront pre-show emcee, looking out at the nearly empty hall in the first Unitarian Church "but we've been hammered before. That won't stop us from putting on a good show."
And on that note, Louisville Homefront Performances began its ninth season, taping two radio shows with the energetic assistance of the audience.
The reason for the tiny crowd was simple: much, perhaps too much, free music elsewhere in the city. In particular, the Strictly Bluegrass Festival was going on at nearby Central Park, drawing away a large chunk of Homefront's usual audience.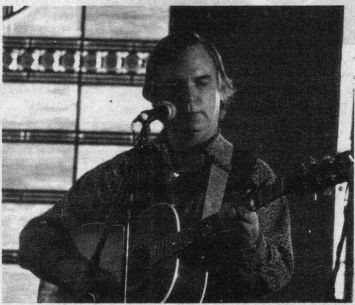 David Olney. Photo by Paul Moffett
The performers carried on as if they were playing to a full house anyway. Singer/songwriter David Olney, noted for his intense, dramatic songs, was in excellent form, growling out a string of well-received tunes, including the title cut from his newest CD, Roses and "Women Across the River" from Deeper Well.
In a brief interview, Olney revealed that he has found working in Europe to be more profitable than in the USA. Besides, he laughed, even if the show isn't very successful, when it's over it's not like "you're in Murfreesboro, Tennessee on a Saturday night."
He also said that he has two new European CDs, the first called Top to Bottom on Appaloosa Records, an Italian label which is also the European home of Tim Krekel. The other CD is Border Crossing on the Dutch-based Silence Records. Silence also is the label for Lexingtonian Paul K.
His next trip to Europe won't be until next year, he said, because" he and his German born wife Gine are anticipating the birth of their second child. The couple already have a two-and-a-half-year-old. As a consequence, he said, he is not working the road with any degree of seriousness, gigging only here and there. The Homefront show was a good gig because he had been there before and it was close to home.
Like most songwriters, Olney struggles with getting his tunes cut by other performers. He recently had one tune, "Queen Ann's Lace," cut by a bluegrass band, but admitted that he could not recall the name of the group.
The Yonders, a group composed of several members of the Lexington group City Slickers, performed folk – rock - something originals and covers. The six-man group has worked at Uncle Pleasant's in Louisville, but the Homefront radio show was a first time appearance for them.