Sound Celebration II
By Henry C. Mayer
Recently, Louisville, including our School of Music, hosted a unique musical event, Sound Celebration II. It opened to an overflow crowd during which Maestro Smith and our Orchestra played the 1992 Grawemeyer Award-winning composition "Adagio for Orchestra" by Krzysztof (Christopher) Penderecki ("c" is pronounced as "s"). Later the composer told Louisville Music News: "It was the best performance I've had!"
The final event was the Orchestra's concert on September 19 during which one of the selections was Toru Takemitsu's "From Me Flows What You Call Time." A ten-day event in all, the previous and more modest celebration was in 1987.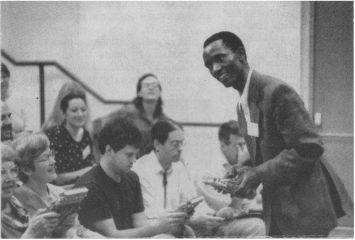 Tshaka Chawasarira, Zimbabwe, demonstrates Mbira (African thumb piano) to a SoundCelebration II audience at U of L School of Muisc, on Sept 11
According to one of this year's organizers, Nan Harmon, "Sound Celebration II brings together critics, composers, instrumentalists and mentors (music administrators and scholars, including ethno-musicologists — students of music from a culture not one's own). They came from all six continents and represented 26 nations."
One participant, Jamaican pianist Dr. Olive Lewin, told this reporter, "It's a great idea and very practical!" Asked what made it practical, she smiled and said, "One gets to hear composers talk about their music and their hopes and expectations of it, what inspired them to write it and how they want it played! "
Though billed as "an exploration which focused on many directions in contemporary music, " Ms. Harmon emphasized that it focused on this question: "Is there an international musical language?" The emerging and dominant answer was "yes." Some of the presentation titles reinforced that reply, including the following, "Influence of African Music on Latin American and Caribbean Music," "Musics of the World: Interactions and Adaptions," "Non Western Influences on Music Composition."
Louisville Music News also talked with Tshaka Chawasasira (Cha-wa-sa-rira), a leading composer from Zimbabwe who also teaches school children to make and play native instruments. He writes hymns for the Catholic Church and other pieces based on African feelings and experiences.
"In my country, music is an intimate response to everyday life. Thus, it can be sorrowful about what has happened to our people."
Asked about which aspect of religion is most reflected in his hymns, he replied, "the death of Jesus, including His unselfish love for us. We also pray for the dead, for crops and peace." Peace is very real to these people for after independence, Zimbabwe was rent by internal disorder. But things are better now for as he put it, "If there were no peace in my country, I would not be here." He also told us, "The drum is the main instrument in my country, not in the size you know but in the long size; anything we express in music is through the drum."
During one presentation, he demonstrated the use of instruments such as the ones he made and explained, "They have no Western equivalents. And at our weddings, we make great use of ngororombe (bamboo pipes)."
Here are some reactions to the impact of this event: first, let's hear from participant Keith Goddard. born in Zimbabwe of English parents, he tells us of his discovery of the native music: "Here I was, right in the midst of a great musical tradition which l had not known before. So I decided to get in touch with it."
Another participant, Jack Griffin, the Louisville Orchestra's principal violist said, "It's very exciting to be a part of an event that brings together musicians from all over the world."
And my own reaction might be of interest: "At first, some of the music sounds strange and almost alien to what we hear but suddenly its beauty takes over!" Special thanks are due to a hard-working Festival Committee, including Sound Celebration II Co-Chairpersons Jennifer Lennon and Phil Lanier, plus the following sponsors: US Information Agency, Office of Private Sector Programs, the Rockefeller Foundation, the Trust for Mutual Understanding (specially designed for relating to the nations of eastern Europe), National Endowment for the Arts, Philip Morris Companies, Mr. and Mrs. David Jones and Mr. and Mrs. Charles Grawemeyer.